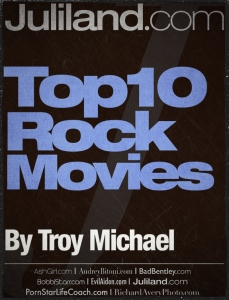 The first rock 'n' roll movie I ever saw was "Kiss Meets the Phantom of the Park" on Halloween. Though the movie sucked, it cemented my love for not only music but movies about music. I especially love music documentaries aka "rock docs" where the film maker takes you behind the stage to see the lives of musicians. Here are some of my favorite movies involving rock ;n; roll.
Almost Famous (2000, directed by Cameron Crowe)
When this film came out most of my friends said it reminded them of me. I take that as a nice compliment for the sheer fact that my friends see me as a writer in the music industry. I do have to admit one of my goals in my "career" is to go on a week-long all access tour with a band and write about it.
"You CANNOT make friends with the rock stars. That's what's important. If you're a rock journalist – first, you will never get paid much. But you will get free records from the record company. And they'll buy you drinks, you'll meet girls, they'll try to fly you places for free, offer you drugs… I know. It sounds great. But they are not your friends. These are people who want you to write sanctimonious stories about the genius of the rock stars, and they will ruin rock and roll and strangle everything we love about it." ~ Lester Bangs
The Buddy Holly Story (1978, directed by Steve Rash)
Such a great movie and such a sad story. From the first time I saw this movie as a little kid I loved it. The older I got and the more I knew about Buddy Holly the more I loved it. It's pretty funny to think that is Gary Busey playing Buddy in comparison to the Gary Busey we all know now.
The Devil and Daniel Johnston (2006, directed by Jeff Feuerzeig)
I first saw this documentary on the singer/songwriter just a couple years ago for the first time on the recommendation from a friend. I've always had a fascination with people with medical problems who embrace music and Daniel's story is riveting. For a documentary about a musician, the film has a lot of emotion to it – sadness, hilarity, and a whole lot of passion.
Hype! (1996 directed by Doug Pray)
Of all the music films I've watched in my life, "Hype!" is the one I've watched the most. I don't know how many times I've seen it, well over 50 times, but it never gets old. This documentary about the Seattle music scene of the 90's is the "Citizen Kane" of music documentaries and it doesn't hurt that some of my friends are in the film.
It Might Get Loud (2008, directed by Davis Guggenheim)
As a person with a "slight obsession" with guitars, you can't help but to love this documentary. Jimmy Page, The Edge and Jack White sit around talk guitars, music and jam. I like that the three main star represent different styles and time periods of music, but they all like and respect each other's playing. That is what music is all about.
Metallica: Some Kind Of Monster (2004, directed by Directors: Joe Berlinger, Bruce Sinofsky)
Some kind of monster indeed. The story behind this docuemtnry on Metallica is pretty interesting and the story it evolved into is just mass chaos. My once beloved band shows a side to them that not many had seen before, worts and all, to put it mildly. I love behind the scenes type stories of bands and this one takes the cake.
Pearl Jam 20 (2011, directed by Cameron Crowe)
Another Cameron Crowe film makes the list. This guy is a die hard music lover and you got to love him for it. Being a long time Pearl Jam fan and collector of goods you'd think you've seen just about everything. Well not even close. "Pearl Jam 20" digs deep, really deep in to the bands past. The amazing thing is Crowe seamlessly fits it all together with his flawless touch not losing anything along the way.
Purple Rain (1984, directed by Robert Magnoli)
When the film came to ny small town, I was so excited. My brothertook me and my friend Greg to the theatre to see "Purple Rain" and when we got there a line had already formed down the street. So we get at the back of the line and my friend Greg (who wasn't too bright at the time, but loved Prince) says out loud "Why are all these black people here?"
My brother and I told him to shut up, but it was too late. A big black guy, seemingly the biggest guy in line, who was in front of us, turns around with his girlfriend and said "what'd you say?" Greg froze and sheepishly said "I'm sorry, I forgot Prince was black." The big guy laughed it off and said it was ok, he was only kidding. I seriously think Greg pissed his pants a little bit right then, but it didn't' stop us from going to see "Purple Rain." A beat down would have been worth it since you get to see Apollonia Kotero naked.
Rush: Beyond the Lighted Stage (2010, directed by Sam Dunn, Scot McFadyen)
As stated before I've had a weird relationshop with Rush. First I absolutely hated them even though I knew individually they were great musicians. I just didn't "get" the music. Then I got older and started to warm up to it. When "Beyond the Lighted Stage" came out, I watched it because everyone was raving about it and after seeing the film I was sold on these guy. The whole mysterious Sci-Fi type songs stil aren't my thing, but damn these dudes can rock. They are also some of the most down to earth rock star's I've ever come across, plus they are funny. Damn those Canadians!
Singles (1992, directed by Cameron Crowe)
Here's another 190's movie I've seen more times than I can count. How could I not love this film, it's about the Seattle music scene, relationships and friends. Again written and directed by Cameron Crowe (I really like this guy), the movie includes Pearl Jam as the faux grunge band Citizen Dick.  "This negativity just makes me stronger, we will not retreat, this band is unstoppable!" ~ Cliff Poncier
This is Spinal Tap (1984, directed by Rob Reiner)
Greatest rock 'n' roll mockumentary ever made, enough said. Over 25 years later and people still quote this movie and laugh. There isn't a musician or music lover who doesn't love "This is Spinal Tap."
"Well, I suppose I could, uh, work in a shop of some kind, or… or do, uh, freelance, uh, selling of some sort of, uh, product. You know…" ~ Nigel Tufnel
Tom Petty & the Heartbreakers – Runnin' Down a Dream (2007, directed by Peter Bogdanovich)
A career retrospective of one of my all-time favorite bands… Yes please. This is a great film filled with stories I've never heard before which made me love this band even more. There is also a lot of great old footage of Tom and the boys playing live and doing television appearances and a star-studded cast praising their love and respect.
Courtesy of Tory Michael & Innocent Words