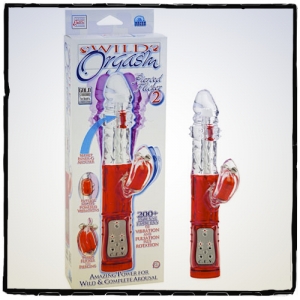 I've always said, "I'll try anything once."  Most often, I find myself applying this life mantra to sexual acts and sexuality in general.  So, I suppose it really came as no surprise that for the month of May I gave California Exotic's uniquely pierced vibrator a try.  The Wild Orgasm Pierced Flicker 2 has all the bells and whistles that someone would desire in a toy:
Pierced turbo flicker for wild and complete arousal
Two powerful synchronized motors with 200+ intense patterns of vibration, pulsation, & escalation
Textured girth ring for added sensations
Flicker 1 has 3 rows of non-jamming rotating pleasure beads with 8 levels of rotation
Flicker 2 has a secret inner G micro-powered vibrating arouser in the shaft
8 levels of incredible vibration
8 levels of rotation
3 functions of vibration, pulsation, & escalation for all motors
The Flicker 2, although appears extremely similar to the Rabbit collection, seems to bring a new quality to the vast world of adult toys that I hadn't come across thus far.  As the clitoral stimulation resembles a ruby red tongue with a pierced ring, I couldn't help but imagine a sexy man and/or woman going down on me with a tongue piercing for hours and days at a time.  The feeling itself was quite different from any other vibrating stimulus that I've experienced, and needless to say, I was pleasantly surprised!  I highly recommend the Wild Orgasm Pierced Flicker 2 for all those women who want to try something different, perhaps a small step up from the trustworthy Rabbit that we all know and love.
Yours truly,
Scarlett Stone 
Follow Scarlett on Twitter!