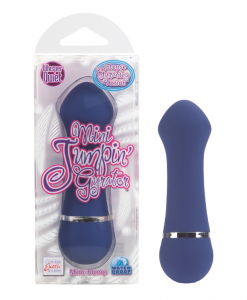 As somewhat of a radical sexual adventurist, I find myself constantly surrounded by toys and products that are, needless to say, not for the faint of heart.  Some have pierced clitoral stimulators, while others DP and swirl like a lollipop.  But upon reviewing the latest and greatest from California Exotics, I seemed to have forgotten that sometimes the best things come in small packages.
For the month of June, I decided to spend time with more simple models of pleasure, ones that may fly under the radar and maintain an understated air about them.  In particular, Cal Exotic's Mini Jumpin' Gyrator is one hell of a vibrator that's both unassuming and compact tiny.  In fact, it's so small that I was able to bring it with me in a small clutch to a gallery opening.  Of course, the damn thing went off right when I was discussing an up-and-coming artist with a dashing fellow.  But if perchance the Gyrator didn't sound off, completely embarrass me, and I was able to take that handsome devil home, I would have been prepared with a killer toy to spice up the evening.  Oh, well.
Upon returning home, I was still able to make use of my mini vibrator.  I always say that if I RSVP to a party, I make sure to cum!  And to my surprise, I was titillated by the whisper quiet quality and the easy to use 3-speed function.  Sometimes when I'm in the heat of the moment, the hundreds of buttons that need to be pressed easily distract me, and the LED lights that shine on my pussy are rather hypnotizing (or maybe it's just my pussy).
Like I said, sometimes the best things do come in small packages.  And sometimes, if you're lucky enough, you can cum too.
Yours truly,
Scarlett Stone
Follow Scarlett on Twitter!