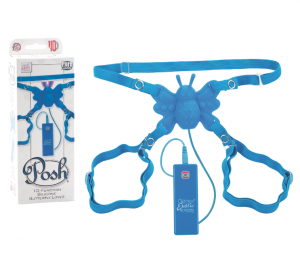 For the month of November, butterflies everywhere have officially spread their wings and made their way down yonder to land more fruitful.  Specifically, they've fluttered from my belly toward my beautiful clitoris and transformed their shape in the process.  Rather than having butterflies in my stomach, I can now confidently say, "I have butterflies on my pussy."
The Posh Silicone Butterfly Lovers by California Exotics is a 10-function product that wraps around your hips and inner thighs for premium clitoral stimulation.  Designed for solo or partner play, the silicone insect is a vibrating, body hugging piece with a fluttering antennae that is sure to please.
Like most Cal Exotic toys, this particular goodie has a state-of-the-art memory chip, which allows one to resume the last function used.  Another gadget worth noting is the universal plug-in jack, an easy-to-use remote that allows either you or your partner to adjust the settings of the butterfly.  What I love most about this product, however, is that the waist and thigh straps are fully adjustable and are suitable for all body types.  This amazing toy does not discriminate, nor does it leave you shy of an orgasm.
For those who are looking to spice up your toy collection and sex life, I recommend your partner wear the Posh Butterfly every once and a while – a small variation such as this gives you the opportunity to ride the vibrating pelvic region of another.  Do I hear an orgasm on the rise?
Yours truly,
Scarlett Stone
Follow Scarlett on Twitter!