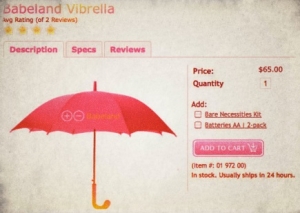 Hello my darlings!  I recently came across an online product by Babeland that needs to be shared.  Upon first glance, it appears to be a heaven sent to all females: a vibrator and umbrella, all in one.  But when I tried to buy the product and add it to my already full cart of sex toys, I soon came to realize that it served as simply a horribly mean April Fool's joke!  It's called the 'Vibrealla,' an entirely new and refreshing take on the good old umbrella we know and love.  Here is its description:
April showers promise to bring more than May flowers when you take your new Vibrella for a spin! Babeland introduces the first-ever vibrating umbrella: what appears to onlookers as an ordinary (albeit attractive!) umbrella is actually a waterproof vibrator that records and stores the vibrations from falling rain. You can detach the vibrating handle to use at home later, experiencing nature's vibrations in all their thunderous glory. This discreet toy promises to make a splash wherever you take it, and only those in the know will wonder why you've started singing in the rain.
What a fucking shame.
Your's truly,
Scarlett Stone