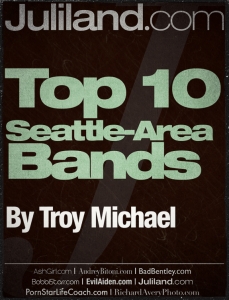 There have been plenty of meccas for rock & roll over the decades. From its birth place in the Mississippi Delta, to shores of England for the British wave of heavy metal, to Haight/Ashbury and hippies in San Francisco, to the glam scene of the Sunset Strip of Los Angeles.
However, for this writer, there hasn't been a music scene that has stuck quite like the music which came down from the rainy Northwest town of Seattle. When you think of the two, music and Seattle, the image of flannel's, Doc Martens, and dirty hair of the 1990s most likely come to mind. Truth be told, you wouldn't be faulted for thinking such things, but there were copious amounts of talented musicians that came out of the coastal seaport city – folk hero Judy Collins; jazz legend Kenny G; 60s rockers Paul Revere & the Raiders; R&B giant Quincy Jones; Rap icon Sir Mix-A-Lot; 60's garage rockers The Sonics; and of course the greatest guitar player of all time, Jimi Hendrix. They all came down from Seattle to spread their music across the globe.
When commissioned to write about my ten favorite Seattle bands, it was a tall task of sifting through the list of bands and musicians which came from the Emerald City and knight them as one of my ten favorites. Always up for a challenge, and a little bit of music history, I was glad to give it a shot.
In alphabetical order…
Alice in Chains:
Of all the bands to come out of Seattle, Alice in Chains is arguably one of the darkest. With front man Layne Staley's doom and gloom drug addled lyrics he weaved his words poetically as Mike Starr's (later replaced by Mike Inez) bass and Sean Kinney's drums thundered from the speakers. Staley's partner in crime, guitarist Jerry Cantrell, added in heavy metal riffs along with shared vocals. The band's debut 'Facelift' put the band on the map, but it was their follow up, 'Dirt' which was their masterpiece.
As the band's career grew, so did Staley's appetite for drugs.  The band managed to release their self-titled third and final studio album before Staley overdosed. Many know Alice in Chains for their first two albums, but don't overlook the latter as it is easily one of their best and often overshadowed.
The band reunited a few years back with guitarist and singer William Duvall taking over for Staley. No disrespect to Duvall, but for this writer, Alice in Chains will always be Layne Staley.
Key Albums: Facelift (1990); Dirt (1992); Alice in Chains (1995); MTV Unplugged (1996)
Brad:
There have been countless side bands to come out of Seattle, frankly that is one reason to love the music scene there. Of all these great side projects none rang more true for me than Brad. Two parts Satchel (Shawn Smith, Regan Hagar), one part Pearl Jam (Stone Gossard) and a rotating cast of bassists, Brad is simply longtime friends making music for the fun of it.
Mixing 70's rock and soul with some funk and groove, Brad is not like any other band to come out of the Emerald City. They have a strong history, a funny back story to their beginnings and a lot of musical prowess.
The band gets together and records when schedules allow, which has only amounted to five albums in 20 years, but each one of those releases is an adventure into sound.
Key Albums: Shame (1993); Interiors (1997); Best Friends (2010); United We Stand (2012)
Jack Endino:
Before the Seattle music scene went mainstream, before Sub Pop became the "It" label and before the major labels invaded Seattle and swallowed up any band with a pulse, there was a humble musician/producer named Jack Endino. Some cite him as the architect of the "grunge" sound and rightfully so, but Endino is way more than just the producer who controlled the knobs for Nirvana's debut.
Endino is a musician. He plays guitar, bass and sings. fronting his own band Endino's Earthworm. His history in the Seattle music scene is vast from his early beginning in one of the forefathers of local music, Skin Yard, where Endino played guitar. The band was a revolving door of who's who in Seattle music: Daniel House (owner of C/Z Records); Matt Cameron (Soundgarden, Pearl Jam); Steve Wied (TAD); Jason Finn (Love Battery, The Presidents of the United States of America); Greg Gilmore (Mother Love Bone); Scott McCullum (Gruntruck); Barrett Martin (Screaming Trees, Mad Season).
Endino has continued releasing solo records through the years and seems to be in a band or helping a band in need – Kandi Coded; Slippage; Lateral Drift; Upwell, just to name a few. There is a reason bands keep coming to Jack Endino, he is a musician's musician and nothing short of genius.
Key Albums: w/ Skin Yard: Fist Sized Chunks (1990); 1000 Smiling Knuckles (1991); Solo: Permanent Fatal Error (2009); Rumble (2013)
Heart:
The constant since Heart's inception in 1973 is the Wilson sisters – Ann and Nancy. In four decades of music, the two have battled not only record companies, music trends (like MTV and big hair) and a myriad of members; the Wilson sisters have consistently released great rock music. Cutting their teeth on Led Zeppelin and other guitar-driven rock, Heart owned the airwaves in the early 1970s and had a resurgance in the 80's thanks to MTV. In the past 20 years, Heart has released solid records including 'Desire Walks On' (1993); 'Jupiters Darling' (2004); 'Red Velvet Car' (2010); and most recently 'Fanatic' (2012). So if you aren't aware that Ann and Nancy Wilson have continued churning out rock and roll, don't miss out on their back catalog, you will be pleasantly surprised what you will hear.
Key Albums: Dreamboat Annie (1976); Little Queen (1977); Heart (1985); Bad Animals (1987); Desire Walks On (1993)
Jimi Hendrix:
The debate has lingered since his death in 1970, is Hendrix the best guitarist that ever lived? In short, yes he was. Moreover, Hendrix was a visionary, an innovator and all about love. He changed the world with his guitar, but he was also a poet singing of love, peace and personal freedom. Not well known as a great singer, in fact the guitar legend was so shy he had trouble singing, but his words were as beautiful as his guitar playing.
Recently there has been a flood of Hendrix rare and lost material flooding the music market. If you want to dig deeper into Hendrix' past and what made him the way he was, look no further than the documentary DVD "Hear My Train a Comin." This film is a jaw-dropping look into the man, his guitar playing and his dreams.
Key Albums: Are You Experienced (1967); Axis: Bold as Love (1967); Electric Ladyland (1968); Jimi Plays Monterey (1986)
Mother Love Bone:
It sounds cliché, but Mother Love Bone was on the cusp of rock stardom before it all came crashing down on March 19, 1990. On that date, the band's charismatic front man, Andrew Wood passed away from a drug overdose.
The band, featuring future Pearl Jam members Stone Gossard (guitars) and Jeff Ament (bass), along with Bruce Fairweather (guitar) and  Greg Gilmore (drums) had just signed to Mercury Records and released their debut EP 'Shine.' The album showcased Wood's poetic songwriting and Freddie Mercury flare while the band backed him with drop D grooves. Just prior to their full length debut 'Apple,' Wood died and the band had a new album but no lead singer. They would eventually break up.
I often wonder what might have been if Wood lived and Mother Love Bone carried on as a band. There would have been no Pearl Jam, no side projects, and their global success. I firmly believe Andrew Wood's spirit lives on through Pearl Jam's music and he has had a hand in taking the band where they have gone.
Key Albums: Shine (1989); Apple (1990);
Mudhoney:
At the time Mother Love Bone was about to break on a major label, Mudhoney was starting out on the low budget, then unknown indie hometown label Sub Pop Records.
With Mark Arm; Steve Turner; Dan Peters; and Matt Lukin (later replaced by) Guy Maddison, Mudhoney was more Iggy & the Stooges than mainstream rock. They were dirty, they were funny, they were unpredictable and you know what, they still are. After 25 years, Mudhoney is still raising hell with their no nonsense brand of punk rock.
They have tasted fame with major label releases and world-wide tours, but the guys in Mudhoney still have that bad ass raucous attitude they had in their salad days. Earlier this year the band released 'Vanishing Point' and it is just as strong as their self-titled debut or sophomore release 'Every Good Boy Deserves Fudge.' That says a lot about this band and the four men in it. They may not be as popular or as successful as their Seattle brothers, but they are equally as bad ass and respected.
Key Albums: Mudhoney (1989); Superfuzz Bigmuff (1990); Piece of Cake (1992); Since We've Become Translucent (2002); Under a Billion Suns (2006)
Nirvana:
If I had to rank these ten bands in order of preference, I'd have to say Nirvana would be down at the bottom. That's not to say I don't like them, they are on this list for crying out loud. I just don't see Nirvana as the Holy Grail of grunge or the greatest band to come out of Seattle. Sure 'Nevermind" is their masterpiece, but for my money, I like 'In Utero' better and gun to my head, if I had to pick just one Nirvana album, it would be 'Bleach.' The raw punk power of that record and its production stands head and shoulders above their major label releases.
Kurt Cobain was a poet indeed, and along with Krist Novoselic and Dave Grohl, not to mention Chad Channing, they were a big part of a changing music industry of the 1990s. Sadly, like a few other bands on this list, drugs got in the way, and were partially responsible for Cobain taking his own life causing the band's far too short career to come to a screeching halt.
Key Albums: Bleach (1989); Nevermind (1991); In Utero (1993); MTV Unplugged in New York (1994)
Pearl Jam:
If you sit back and really look back on Pearl Jam's 20 plus years as a band, it is quite fascinating to watch them grow not only musically but personally as a band. From fresh-faced dirty haired kids in their 20s to the now more mature family men. The evolution of this band, not to mention its persistence, is astounding. They have seen the good times, bad times, even the horrible times and kept fighting the good fight.
It bugs me when people are surprised that Pearl Jam is still around, saying they haven't listened to them since 'Ten' or Vitalogy' because they are missing out on some of the bands finest work like 'No Code,' 'Yield,' and 'Backspacer.'
To be honest, the first time I heard Pearl Jam, I didn't like them. I was still stuck in my late 1980s musical phase, but then a friend played me "Why Go" off their ridiculously popular debut 'Ten' and I was hooked, from then on the band has been one of my all-time favorites.
Key Albums: Ten (1991); Vs. (1993); Vitalogy (1994); No Code (1996); Yield (1998)
Satchel:
The majority of the bands on this list have millions of fans and sometimes when that happens something special is taken away. As a music nerd, you always want to have "your band" that no one else knows about, it just feels special.
That's how I feel about Satchel, they are "my band." They never cashed in on the grunge wave that took over with their first two records 'EDC' and 'The Family' and they never reached global popularity like their friend's bands. But damn it, they are a great band and I've loved them since I was working at an indie CD store and got the promo of their debut album. I didn't know anything about Satchel, I just thought the cover was cool and they were from Seattle. I did my research and found out that Shawn Smith (vocals, piano and guitar) and Regan Hagar (drums) had an amazing back story in the Seattle music scene and boy could they play.
Satchel is one of those bands hard to categorize. They are alternative rock with soul. They are a bit of 1970s glam with a bit of funk. In short, they are a bad ass groove machine.
Key Albums: EDC (1994); Family (1996); Heartache & Honey (2010)
Courtesy of Tory Michael & Innocent Words