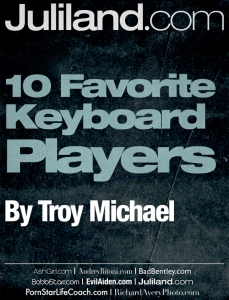 When asked to write a list of my 10 favorite keyboard players, I kind of cringed at the thought. The instrument is not my strong suit and I've always thought you just can't look cool rocking out on the keyboard like, say a guitarist of drummer can look cool on their respective instruments.
Upon doing research, I found there are a lot more rockin' keyboard players than I had thought. I will be the first to admit, my list of 10 favorites is far from conventional, Sure I could have added Keith Emerson (ELP); Rick Wakeman (Yes); Tony Banks (Genesis); or Steve Winwood (Traffic) to my list, but to be perfectly honest, I don't like those bands.
Ray Charles
Ray Charles, simply put, was the master. He was a legend, a pioneer, a leader musically and socially. Charles was the best at mixing genres such as R&B, rock & roll, the blues, jazz, soul and gospel. He even covered all his bases by recording country music.
In the early days, alongside Sam Cooke and Jackie Wilson, Charles helped pioneer what is now known as soul music. On top of his signature piano playing was Charles powerful and emotional singing. Charles owned the 1950s and 60s despite battling legal issues, drug addiction and racism. His hit singles declined over the decades, but was still the main attraction up until his death.
Ray Charles passed away at age 73 on June 10, 2004, due to liver failure/hepatitis C.
Benmont Tench (The Heartbreakers)
Longtime keyboard player for Tom Petty & the Heartbreakers, Benmont Tench is one of rock's most respected instrumentalists.
Though he is known for playing alongside Tom Petty since they met in a Gainesville, FL music store in the 1960s, Benmont has also recorded with an amazing line up of musicians including Johnny Cash, U2, Stevie Nicks, Lucinda Williams, Sam Phillips, Susanna Hoffs, Bob Dylan, Roy Orbison, The Rolling Stones, Don Henley, John Prine, Ringo Starr, John Fogerty, Elvis Costello, Bonnie Raitt, Sheryl Crow, Waylon Jennings, Paul Westerberg, X, Mary Chapin Carpenter, Carlene Carter, The dB's, Alanis Morissette, The Ramones, The Screaming Trees, Warren Zevon, The Divinyls,  Green Day, The Cult, The Jayhawks, Fiona Apple, Neil Diamond, Ryan Adams and many others.
Benmont is also a talented songwriter penning hit songs for Rosanne Cash, Hal Ketchum, and Jessica Andrews, Carlene Carter, Lone Justice and more.
Randy Newman
Singer/songwriter Randy Newman is a different musician in every sense of the word.
Inspired more by New Orleans R&B and traditional pop than traditional piano players, Newman had a novelty hit song "Short People" in the 1970s, but he never let that novelty own him. Newman loved the misfits, embraced them with his devilish sense of humor and made a career on it.  With his songs he painted characters in his lyrics. The sarcasm in his 1980s hit single "I Love L.A." was so brilliant that the yuppies he was singing about didn't even realize it.
However where Newman really shines as a musician is his ability to compose beautiful film scores such as "The Natural" (1984); "Parenthood" (1989) "Awakenings" (1990); the "Toy Story" franchise and many more.
Stevie Wonder
Blind essentially since birth, Stevie Wonder has risen above his adversities and become a music legend. Not to be pigeonholed as an R&B artist, Wonder broke the mold to become a beloved pop musician with his uplifting positivity in his songs even when address such as racial, social, and spiritual hardships.
Wonder's insatiable hunger several types of music gave his records a mixture of soul, funk, rock & roll,  pop, jazz, reggae, and African elements. If there is any doubt of Wonder's greatness, look no further than his 1973 release Innervisions   or his 1976 masterpiece Songs in the Key of Life.
Richard Wright (Pink Floyd)
Richard Wright was a founding member of the legendary band Pink Floyd and it is safe to say there wouldn't be a Floyd sound if not for the master keyboardist.
Along with Syd Barrett, Roger Waters, and Nick Mason, Wright started the pro rock band in 1965. In the early days Wright was a crucial member of the band with his playing, songwriting and even singing lead on some early songs. Pink Floyd grew in popularity and so did the egos with Waters taking over the control of the group and Wrights contributions were diminished to just his keyboard playing until he was kicked out of Pink Floyd by Waters while recording of The Wall (1979). After the Waters-era Pink Floyd came to a halt, Wright returned to the band for the albums A Momentary Lapse of Reason (1987) and The Division Bell (1994). He also toured with the band and is featured on the live albums The Delicate Sound of Thunder (1988) and Pulse (1995).
Richard Wright succumbed to cancer on September 15, 2008.
Jon Lord (Deep Purple)
In the late 1960s, eatly1970s there was a wave of British heavy metal/hard rock bands that came to America, with a lot of those bands utilizing the keyboard player.
Jon Lord, co-founder and keyboard player for Deep Purple was arguably the most revered. Though he found the mainstream spotlight with Deep Purple, Lord was already a success full session keys player and solo artist. Cutting his teeth on everyone from Johann Sebastian Bach and Sir Edward Elgar to Jimmy Smith, Jimmy McGriff, and Jerry Lee Lewis, Lord absorbed as much music as he could and later used it in his own style.
After battling pancreatic cancer for nearly a year, Jon Lord died of a pulmonary embolism in London on July 16, 2012; he was 71 years old.
Jonathan Cain (Journey)
Chicago-native Jonathan Cain started out as a solo artist, but didn't really come on to the music radar until he replaced keyboardist Mike Corby in the British band the Babys, which scored the hits "Isn't It Time" and "Every Time I Think of You." After the group broke up in 1981Cain found AOR gold when he joined Journey and helped propel them to radio (and MTV) stardom with his arena rock/adult alternative pop style.
In 1988, after Journey went on hiatus, Cain and Journey guitarist Neal Schon forms Bad English with former Babys frontman John Waite. Again Cain found success with two major hits – "When I See You Smile" and "Price of Love" and the band broke up shortly thereafter.
Cain might not be the most respected keyboardist on this list but he is a solid keyboardist who writes songs which find their way to the charts.
Jerry Lee Lewis
Jerry Lee Lewis. The Killer, both figuratively and literally. It's a shame that Jerry Lee Lewis' antics, bad disposition and legal troubles outshine his talents as a keyboard player because he was one of the best.
Jerry Lee Lewis was a wild man when American was button down safe. In 1957 America found out who this hard livin;' Louisiana-native was when his single "Whole Lotta Shakin' Goin' On," rocked the airwaves. With his blonde locks and piano playing energy, Jerry Lee was every parents' worst nightmare. Jerry Lee had the ability to play lonesome country standards, dirty Delta blues or fire-fueled rock & roll. The piano player was rock's first great wild man and rock's first great eclectic who couldn't get out of his own way.
Ray Manzarek (The Doors)
Chicago-born Ray Manzarek was the backbone to the influential rock band the Doors. Forming the band in Los Angeles, the former UCLA student had a hybrid style mixing psychedelic/garage rock with prog-rock to give the Doors their unmistakable sound on such tracks as "Light My Fire;" "Love Me Two Times;" "Hello, I Love You;" "Riders on the Storm;" "L.A. Woman "and many more/ Sadly Ray Manzarek passed away last May in Rosenheim, Germany after battling bile duct cancer; He was 74 years old.
Booker T. Jones (Booker T. & the MG's)
Booker T. Jones made this list for one reason, "Green Onions."
Sure he can be considered one of the pioneers of the Memphis soul sound of the 1960s as an arranger, producer, songwriter, and instrumentalist working with everyone from John Lee Hooker to Willie Nelson and Soul Asylum.
There is no doubt Booker T. Jones, is one of the best keyboard players to come along in the music industry and deserves the accolades for his diverse playing. But it's that song, that one song that is his hallmark. Anytime I hear the opening notes to "Green Onions" it puts a smile on my face, the song is iconic with his R&B groove and laid back soul.
Courtesy of Tory Michael & Innocent Words