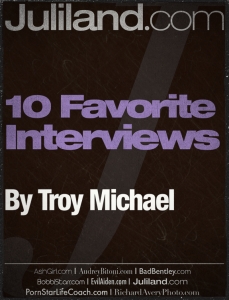 I'm not sure how many bands/musicians I've interviewed over the ten years of Innocent Words, maybe 150 or so I guess. After 10 years and all those interviews I still to this day get a bit nervous when I am about to pick up the phone and make the call on a scheduled time.
I've never blown off an interview, nor have I ever been late when I am the one to call or show up, I am really proud of that. I don't know why that is, it just is.
Growing up basically worshipping music, I never dreamed I'd be doing what I do. It sounds cliché but I am the luckiest guy I know. To be able to interview all these people making music is pretty incredible. And to think I've been able to interview some of my rock icons is even more amazing.
In that respect I've compiled a list of 10 of my favorite interviews. These artists aren't the most well-known of the artists I've interviewed, but these are some of the ones I had the most fun doing.
Jack Endino
Though he is best known for producing Nirvana's Bleach album, Jack is Fry more than one trick pony. He's recorded hundreds of albums from bands all over the globe and he's also a talented musician playing in the legendary Seattle group Skin Yard and other and releasing a solo record.
I was kind of intimidated to interview Jack because he seemed so serious in the interviews I'd seen him do. In reality he is a pretty laid back guy with stories as big as the trees of the Pacific Northwest.
At one point I felt a bit sad for Jack because at the time we talked it was coming close to the fifth anniversary of Kurt Cobain's death and he was dreading all the press and hype. People forget that Jack, who has made some of the best rock records in history, lost a lot of friends along the way.
However he keeps going, producing great records, and making great music of his own and doesn't bother anyone in the process. He is quiet, humble and a damn good guy.
Ed Hamell (Hamell on Trial)
Ed Hamell isn't widely known but he should be. This guy is one funny guy with a punk rock attitude. He plays a 1930s Gibson acoustic and has more balls than most punk bands with the full gear.
Ed is a native New Yorker and is everything you'd expect. He talks fast, has 1,000 stories and has more energy and passion than kids half his age. In his 50's Ed is intelligent, opinionated and funny as hell. He's done everything from playing in a struggling punk band to bartend at a dive bar in NY where drug deals were common practice. If the music industry was a perfect place everyone would know who Ed is, but somehow I don't think he'd like that very much.
Kristin Harsh (Throwing Muses, 50 Foot Wave, solo)
I feel a little guilty about this interview because I was really late to the Throwing Muses game. I knew of them and liked what I heard but it was Kristin's other project 50 Foot Wave and her solo releases I truly loved.
I hesitated putting her on the list because it was an email interview so I really didn't get that personal connection a phone interview gives. But we've kept in tough since the interview and she is a peach. It's funny that she doesn't like her voice on the phone calling it "squeaky," can you believe that? One of the finest singers out there is worried about her voice.
More than her music I have a great admiration for Kristin. She is co-founded a correlation for independent musicians called Cash Music, she is still putting great records out with the Muses, 50 Foot Wave and solo material and she tours. In addition she is the mother of four wonderful boys and an author.
Lydia Lunch
There is no easy way to say this so here it is – Lydia Lunch scares the shit out of me and I like it.
I didn't know who Lydia was until the compilation Home Alive: Art of Self Defense was released in 1996. As a writer and fan of spoken word I was drawn to Lydia's brutally honest and graphic performances about men, women, rape and the government.
The deeper I looked into Lydia's career I was blown away that she was a musician, author, poet, and actress who was influential to the famed New York No Wave scene.
When I interviewed Lydia she was living overseas because she couldn't stand living in America during the Bush era. That's how serious she was. She had just released her umpteenth album Smoke in the Shadows (2004) and was currently working on new projects. That was Lydia, she was ALWAYS working on something, but she took the time to talk with me from across the globe and even personally sent me a care package of her CDs with a thank you note… Maybe she's not so scary after all.
Bret Michaels (Poison)
Seriously? I was going to get to interview Bret Michaels. Talk about surreal. Poison was on tour and going to play my hometown so I scored an interview through his personal per person.
Brett called me from the road in his hotel room. This was before his MTV show or any of that, Poison was just trying to stay relevant in a "grunge" dominated music scene.
Brett was exactly like you'd expect – honest, easy to talk to and very kind. He even offered to let me join the band on stage to play guitar on a song. Unfortunately this never happened because bassist Bobby Dell fell off the stage and injured his back a couple shows before they were to play here and their tour was cancelled.
Johnette Napolitano (Concrete Blonde)
I wanted to interview Jeanette for a long time because we had a mutual friend and all the stories I had heard were priceless.
I tried not once or twice but three times to set up an interview and it always fell through, so chalked it up not meant to be. Then a fourth chance came a long and it was set. We had a date and time. Jeanette called me, "Hello" and I heard her faint voice of the static. Her cell phone was cutting out. She'd call back and it happened again and again and again. We gave up.
I guess it wasn't meant to be after all. We set up a new time and it finally worked. I got too talked to Jeanette while she was on break from the animal shelter she was volunteering at. She was very friendly, modest and had great stories. She's Italian and liked to talk and talk and talk some more. Sometimes I couldn't get a word in, but it was a blast. Jeanette was the longest interview I had ever had – we talked for nearly two hours.
Utah Phillips
I became aware of Utah Phillips through the two albums he recorded with Any Durance – Past Didn't Go Anywhere (1996) and Fellow Workers (1299).
Born Bruce "U. Utah" Phillips he was called "the golden voice of the great American Southwest." A folkie by trade and an anarchist at heart, Utah stood up for all that was wrong in America to the day he died at age 73.
Utah reminded me a lot of my grandfather as he told me stories of touring the United States by train and I don't mean Amtrak.  At one time he was a "hobo" and he also road the famous Wabash Cannonball. He went on to run for political office, record some of the best stories you've ever heard. He toured until just a couple years before his death of a bad heart, which is ironic considering he has one of the biggest hearts I've ever seen.
Doug Pinnick of King's X
Growing up in a small Midwestern town I had a lot of free time, hence my love for music. Back in 1988 my Saturday nights would involve staying up and watching "Head bangers Ball" on MTV dreaming I'd be the next great guitarist.
One night they played a video by a band called King's X. It was the strangest band I'd ever a seen. A three piece playing Beatles-funk-inspired rock. Their lead singer was a black man with a big Mohawk and playing best left handed. If there was ever an oxymoron in rock, it was this guy.
I went down to my local indie music store and bought King's X' debut Out of the Silent Planet and was blown away. It was like nothing my ears had ever heard before. I followed the band for years and that front man is Doug Pinnick. He became one of my favorites, one of my rock icons.
During the early years of Innocent Words, I had the chance to interview Doug, but it almost didn't happen because of some email confusion, but once it did it was great. I was trying to be professional, but it didn't matter with Doug. To this day, even after interviewing Doug more than anyone else, I still find it hard to believe one of my rock heroes is now a good friend of mine.
Louis Posen (owner of Hopeless/Sub City Records)
I can't really tell you when I interviewed Louis Posen but every day since he has a profound effect on my life. Louis, along with a friend started Hopeless Records literally out of a closet and he has turned it into one of the biggest punk labels in America.
More than music Louis is a genuine guy, who is one of the smartest people I've ever met. He also battle macular degeneration, which has taken nearly all his site. He only can see light and dark shadows and still manages life better than most people with perfect vision.
I only talk to Louis a few times a tear, he always remembers to call on my birthday, but when we do talk it's like no time has gone by. Not only is Louis a friend but a mentor and great inspiration for me personally and professionally.
Kim Warnick (the Fastbacks)
I met Kim Warnick in kind of a weird way. She was going through some serious life-threatening health issues and Pearl Jam put up a guitar for auction to help raise money for her medical expenses. As a person with life-long health issues stories like this always hit close to home. I felt the need to spread the word and help Kim even though I didn't know her.
I emailed the auction and tracked Kim down. She was post-surgery and still recovering but agreed to do the interview. Though she was on pain medication, Kim was a great interview. She was engaging, funny and had the best tour stories. Kim was a patriarch of Seattle music and was the most humble person I'd ever talked to. She had seen it all and done it all and lived to talk about it. And she liked to talk. For someone recovering from surgery, Kim talked…a lot.
Kim and I became close friends and to this day she talks my ear off and I love every minute of every story she tells me. If anyone in rock 'n' roll should have a rock biography it should be Kim Warnick.
Honorable Mentions:
Everyone, good or bad I have interviewed. Thank you.
Courtesy of Tory Michael & Innocent Words