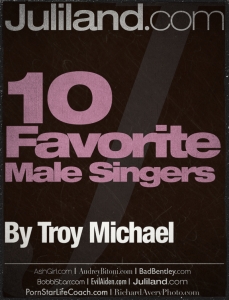 I had a really tough time with this list to only have 10. In fact, I had to have 12. I broke up the singers in to male and female, even after that there were still too many names. So I cut it down to just have rock singers.
Jeff Buckley
It might sound a little feminine to say this, but Jeff Buckley had a voice of an angel but he also had the balls to rock out. It's hard to listen to Jeff's songs for me because they are so emotional and his death is still such a huge loss to the any fan. R.I.P. Jeff.
James Hetfield (Metallica)
Even though he's been known to be an asshole, James is still one of my favorite singers and guitarists of all time. The way he delivers the songs with his menacing style and thunderous growl is killer. They way he crouches down to sing live adds to that scary mystique he has. Also it takes someone who has survived some serious bad times in their life to write some of the best twiusted songs ever.
Michael Hutchence (INXS)
You could say Michael was a bit of showboat with his cocky attitude on stage, but it worked well. He had a great voice for the type of music INXS was playing, especially for songs like "Never Tear Us Apart." Michael was another one of those guys the girls loved and the guys wanted to be as cool as him. R.I.P. Michael.
Maynard James Keenan (Tool, Perfect Circle)
I like Maynard more for his stage presence and song writing abilities more than his vocal style. Don't get me wonrg, he is certainly a great singer with a distinctive voice, I just think his artistic nature rises above that.
Freddie Mercury (Queen, Solo)
Freddie could have easily been at the top of this list, but the only deciding factor was I like Led Zepplin better than Queen. When I think of Freddie I think of the flamboyant man with half of a microphone stand wearing a yellow coat with stripped pants at Wembley Stadium leading the crowd in a sing-a-long. He had so much energy, passion and flare with vocals to match. R.I.P. Freddie.
Robert Plant (Led Zeppelin)
The epitome of a cool rock front man – Robert Plant. All the guys wanted to be him and all the girls wanted to be with him. Long hair, bell bottoms, shirt open and a voice that scaled the notes, Robert Plant was sex on the stage.
Prince
He may be small in stature but Prince is huge when it comes to being a singer. Prince is another one of those singers who, albeit a little quirky, has his fans in the palm of his hands when he sings.
Shawn Smith (Satchel, Brad, Pigeonhead)
Speaking of Prince, Shawn has the most soul and funk in any white boy I've ever seen. He has one of the best voices in rock hands down. I love the fact that he can bring his outside influences of funk and soul and incorporate it in to a rock band. His voice has literally brought people to tears.
Layne Staley (Alice In Chains, Mad Season)
A tormented drug addict seemed to work for one of Seattle's best singers. Layne's dark side of demons transferred so well into his words and his dark persona also added to his greatness. R.I.P. Layne.
Geoff Tate (Queensryche)
Don't even throw the hair metal tag on Queensryche. They may have came out in the 80's but certainly didn't fit that Sunset Strip genre. Geoff has a commanding falsetto which carries the bands songs to a high level. Prime example would be the entire Operation: Mindcrime album.
Eddie Vedder (Pearl Jam)
If you looked up intense singers in the rock dictionary it would have a picture of Eddie Vedder. In the early days this guy would climb scaffolding, swing from the rafters and fall into the crowd. That's how much he believed in Pearl Jam's music. He's shelved all his stage stunts, but still has that passion for music as he swakwardly dances on stage or does his best Pete Townshend impression leaping high into the air. His baritone vocal leaves you spellbound and his desire to help others and do what's right is immeasurable.
Andrew Wood (Malfunkshun, Mother Love Bone)
Another one that was gone to soon. Andy was part Freddie Mercury part Robert Plant and part Prince. This guy was one in a million. He had the vocals and the greatest song writing style I had heard in a long time. R.I.P. Andy.
Courtesy of Tory Michael & Innocent Words