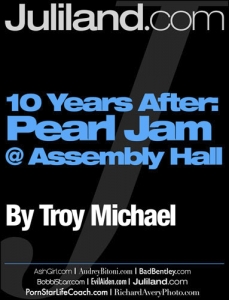 February 2012 kicked off the 0th anniversary of Innocent Words Magazine. With that in mind, we have decided to write one retrospective feature each issue documenting our biggest moments, good, bad or otherwise.
One of the biggest highlights for me and Innocent Words came early in the magazine, April 23, 2003 to be exact.
Pearl Jam was on their North American tour in support of Riot Act and was making a stop in Champaign-Urbana, Illinois. I had never seen my favorite band live before so now was my chance.
With a few calls to some connectiions, I greased the sheels and got two press tickets and a photo pass to cover the show. Outside of Ani Difranco this would be the biggest rock show I would cover so I was nevervously excited.
I met up with some friends I had at the time and we went out to dinner before the show. We went to Hooters of all places, another first for me. I had never ate there before and I haven' ate there since, the food was horrible.
We drove the short distance to the Assembly Hall and found a good spot to park. While pulling in we saw a bunch of drunk college kids driving a Hummer of all things. Oh' the irony. I was nervous because I didn't know really how things would pan out, I am such a creature of habit and have to know what's going on when. Me and my friend went up to the ticket window where there were massive lines waiting to get in or score some tickets from anyone who was elling. We waited in line for a few minutes but then decided to say fuck it and see if we could use our "press" leverage to jum get out tickets.
We walked up to the front of the line trying tnot to cause too much trouble even though the stares from the people in line were deadly. The big security guard at the front of the line asked what we thought we were doing and I told him I had to pick up to press tickets and aphoto pass for the show. He checked my ID and let us in. There was a little rumbling from the people waiting in line, but I never looked back. I have to admit I felt pretty important.
So I was ushered to an office4 where I met my friend who worked for Pearl Jam and got my orders, left my camera in the office and went to find our seats. The seats were kind of far back but I wasn't complaining.
House Lights Down
Not too long after we sat down the house lights went down and the opening act Sparta took the stage. They were good and they gave my friends in a local band a shout out so that was pretty cool.
House lights up.
After the show I had to go back to the office and wait for my Pearl Jam friend to return to ushers us down to the photo area. As I waited I loaded up my camera and made sure everything was set.
It Was Time.
Nicole came and got us, about five photographers and ushered us down to the photo area. It was a long walk and I heard some peple I knew shout out my name, so weird. As we went past the barricades there I was, right up against the stage in a five foot deep area between the band and the barricade. I felt like a little kid as I kept turing 36 looking at the massive crowd. I saw this one guy a few rows back on the floor who was wearing a leather jacket and looked exactly like Trent Reznor. Turns out that guy would become one of my best friends wehen we met up a couple years later.
It seemed like we waited forever as I kept checking and double checking the camera.I was still a novice photographer so I was hoping just to get something usable. Then finally…
And the Lights Go Down
The crowd erupted, my palms got sweaty as Pearl Jam took the stage. I was stage left, right in front of guitarist Stone Gossard and Eddie vEdder. Eddie walked right in front of me taking the stage carrying his note book and a bottle of red wine, Stone straped on his Les Paul and "All right, let's go" Eddie said as the band broke into "Do  The Evolution." I felt like I was at my first concert, that rush of enegery which came raining down off the stage was immense. I was just inches to feet in front of my rock 'n' roll heroes.
We were only allowed to take pictures for the first three songs, so I pushed the button on my vintage 1985 Nikon like there was no tomorrow. Click, advance film. Click, advance film. Click, advance film. Click, advance film. Click, advance film. I went through a roll of film in the first two songs. I loaded up a second roll of film and started again Click, advance film. Click, advance film. Click, advance film.. After a crowd singalong with "Corduroy" and a new one "Save You," we were gathered and taken back to the office to leave our cameras. Three songs, roughly 12 minutes of something I will never ever forget.
While going back to the office I missed "Deep," "Dissident" and part of "Elderly Woman," but it didn't matter. I was sky high.
Back at my seat watching the show it felt like something otherworldly. The power and energy encircled the Assembly Hall like a tornado of positivity. Then, at the end of the show during Mike Mcready's blistering extened solo my then-friend said to me "That guitar tone is just unacceptable." I couldn't believe my ears, not because of the music, but because of what he had the balls to say. To this day that pisses me off considering he was just a local musician who had only been playing guitar for about five years or so.
Nonetheless, I didn't let his comments ruin the night as Pearl Jam closed with "Baba O'Riley" and Eddie tossed a tambourine to my friend who was sitting on the side of the stage.
On the way home we kind of hit a detour and got a little bit lost, but that was ok with me, I was flying.
Pearl Jam – Champaign, Il April 23, 2003
Track Listing:
Do the Evolution
Corduroy
Save You
Even Flow
Jeremy
Thumbing My Way
You Are
I Am Mine
Habit
Untitled
MFC
Given To Fly
Nothingman
Blood
Porch
Encore 1
Driven To Tears
Better Man
Crazy Mary
Know Your Rights
Fortunate Son
Encore 2
Blue Red and Grey
Black
Alive
Baba O'Riley
Courtesy of Tory Michael & Innocent Words