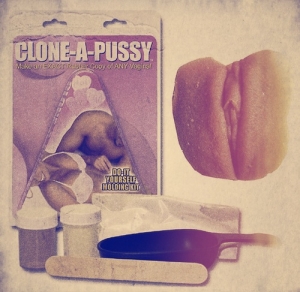 Are you in a long-distance relationship?  Do you find yourself missing your lover's cunt?  Wouldn't you like to have your partner's pussy at the drop of a hat?  Well, now you can with Clone-A-Pussy!  This revolutionary molding kit allows one to create an exact rubber copy of any vagina in just a few minutes.  It's quite similar to its male counter-part, Clone-A-Willy, a comparable kit that gives you the opportunity to mold any penis of your choice!
Like Clone-A-Willy, the Clone-A-Pussy kit comes with a specially timed molding gel, a custom molding container, a patented 'Liquid Skin,' amazing 'Liquid Rubber,' and easy-to-follow directions that will get you wet just reading them!
Now, please keep in mind that this product is very different from the ever popular, Fleshlight.  The Clone-A-Pussy contains no inner sleeve – rather, it is simply a copy of the outer portion of the vagina (a great tool to practice cunnilingus on).
PLEASE NOTE: YOU MUST RECEIVE CONSENT BEFORE MOLDING YOUR VAGINA OF CHOICE.
VAGINA NOT INCLUDED.
Yours truly,
Scarlett Stone