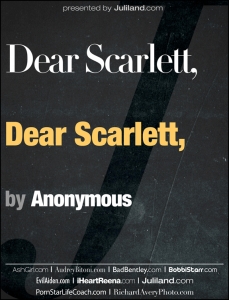 The following submission and any other submissions to "Dear Scarlett" are by independent contributors who have agreed to our terms of use.  We are so appreciative for their work and encourage them or any other interested parties to contact us for online publication.  Now, let's get down and dirty…
Dear Scarlett,
I have a problem.  And if you think it's that I'm not beautiful, smart, fortunate and surrounded by suitors, you're wrong.  My problem is that no matter how kinky a guy thinks he is, he is never kinky enough.  And my brand of kinkiness requires a special contract: that I cannot ask for what I want.  Because what I want must be DONE to me of a dominant man's volition. Because what I want is for them to want to do it to me.  Because aggression isn't enough — I find that I want to be slapped harder, thrown harder, fucked harder, treated worse. Even porn doesn't go far enough.. and suddenly I find myself Googling "rape".
As Sasha Grey said, "punch me in the stomach".  I mean I'm a feminist, but is it so wrong to want to be roughed up?  Like REALLY roughed up? Short of bleeding out, spit in my face.  Slap me as hard as you can.  Hit me. Choke me.  Wrestle me to the ground and hold me down. Call me a dirty slut.  Call me a fucking bitch.  Tell me you're going to kill me.  Is there something wrong with me if that's what I want you to do?  Oh, and by the way, if I have to ask you to do it the magical spell is broken.  Your aura of violence has become a pretense.  So, just do it.
See my problem?
XXX,
Anonymous
————————————————————————————————————————–
Dear Anonymous,
I'd first like to start by saying that you do not have a problem.  If anything, you have a unique opportunity for a very lucky man to take hold of.  I happen to believe that viewing our kinks in a negative light makes it much more difficult to make them a reality.  And by that same virtue, it becomes almost impossible to properly communicate with your partner about what exactly makes you tick.  So first, own up to the fact that you know what you like.  Secondly, be unapologetic.  And lastly, never be ashamed nor thrown by how dissimilar your kink is to what you typically see in porn.  I think we can both agree that when it comes to sex, there is no "norm."  That's why it's so much fun.
What you have on your hands is actually a very common fantasy for women, feminists included!  I've even found myself in the most heated moments wanting more aggression, roughness, and sexual ingenuity from my partner.  I've even slapped a guy (hard) in the hopes that he would take a hint.  But alas, most men need things thoroughly spelled out.  As the "rape fantasy" is a complicated scenario, I definitely think it calls for a certain kind of man who is confident in himself, aware of his own boundaries, experienced in the bedroom, and perhaps most importantly, is able to listen.  He does exist!  And if he doesn't, you can absolutely find someone moldable or even, an individual interested in reaching that rough place with you.  I think you'll even be surprised to find how many men are equally fed up with vanilla sex.  After we've been there and done that, the idea of crossing the line becomes more enticing.  And it's that kind of curiosity that makes you so beautifully different and desirable.  After all, look at how quickly Sasha Grey's career took off after her plea for aggressive behavior was caught on camera!
That being said, your wish to have a man magically know what you want and then execute those desires flawlessly will mostly never happen.  Leave those moments for 50 Shades of Grey or a well-scripted film.  When dealing with sex, communication is necessary.  When approaching extremely rough sex, communication is mandatory.  Sure, the element of surprise will be diminished.  But in return, you'll be able to get what you want, when you want it, in a specific fashion, safe word included.  Ultimately, the two keys to successfully roughing it up are articulation and trust.  Once you've crossed those bridges, anything can transpire.
Yours truly,
Scarlett Stone
Follow Scarlett on Twitter!