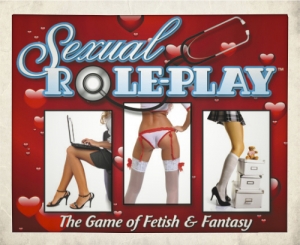 I've been getting a ton of emails recently regarding the act of sexual role-play: how to effectively role-play, its importance, different ideas to incorporate into the bedroom, etc. It seemed that the passing of Halloween inspired many partners to indulge in the ever-so seductive art of dress up, a game of sorts that we're conditioned to partake in as young children. Who would have thought that dressing up as a princess as a five-year-old would have been a primer for my role-playing endeavors as an adult?
Quite simply, role-playing refers to the changing of one's behavior to assume a role, either unconsciously to fill a social role, or consciously to act out an adapted role. But by placing the art of role-play within an erotic context, the act itself has the ability to increasingly heighten ones sexual arousal. The key to doing so, however, is striking a balance between what you and your partner desire within a constructed fantasy.
In a previous article titled, What's Your Fantasy, I discussed the importance of exploring one's sexual imagination by siting Laura Kipinis' book, Bound and Gagged – a truly inspiring read! According to Kipinis, "Fantasy is clearly a powerful thing if it allows you to reassign your own sex and bed different sexes than usual with merely a change of outfit." But, how seriously this is taken is really contingent on those involved, and perhaps most importantly, how much honesty and communication was incorporated before hand.
The tendency during sexual role-play is to either laugh, snap out of character quickly, or remove all clothes immediately. Doing so is all well and good, but keep in mind that by leaving clothes on and taking the situation seriously only allows for the scene itself to be more intense and sexually heightened! And above all, create a safety word to reaffirm your boundaries during sex (mine is 'puppies').
Once you've discussed with your partner all of the naughty, out-of-this-world ideas you wish to incorporate into the bedroom, you may find yourself at a loss for originality. So, here are some ideas for you to make your own:
1. Stripper/Client
2. Secretary/Boss
3. Nurse/Patient
4. Teacher/Student
5. Masseuse/Massage Receiver
6. Police/Criminal
7. Master or Mistress/Slave
8. Poolboy/Cougar
9. Maid or Butler/House Owner
10. Baby Sitter/Parent
11. Vampire/Mortal
12. Barbie/Ken
13. Drill Sergeant/Private Parts
14. Mailman/Woman of the House
15. Priest/Altar Girl
16. Flight Attendant/Flyer
17. Romeo/Juliet
18. Virgin/Experienced
19. Cowboy/Saloon Girl
20. Cowgirl/ Ranch Boy
21. Pizza Deliverer/Hungry House Owner
22. Doctor/Nurse or Patient
23. Room Service or Bellboy/Hotel Patron
24. Adam/Eve
25. Superman/Lois Lane
26. Cheerleader/Jock
27. Sailor/Wet Civilian
28. Fire Fighter/Burning Damsel
29. Jasmine/Aladdin
30. Maid Marian/ Knight
31. Peter Pan/Tinkerbell or Wendy
32. Catwoman/Batman
33. Poison Ivy/Robin
34. Pope/Nun
35. Spiderman/ Mary Jane
Your's Truly,
Scarlett Stone