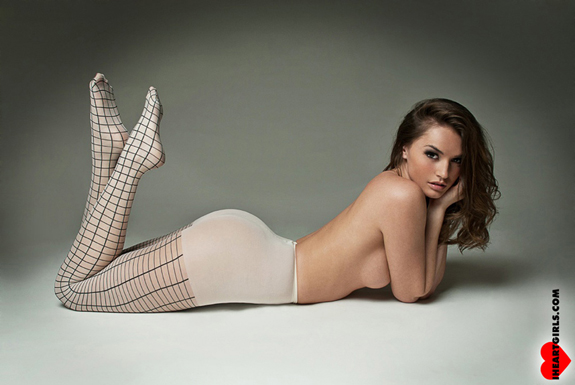 As the ingenious creator of iheartgirls.com, Cherie Roberts is undoubtedly a force to be reckoned with.  Amongst her busy schedule, I was lucky enough to sit down with Miss. Roberts and ask her some questions that I was dying to know the answers to.  I was happily surprised when I found out Cherie was a woman after my own heart – a pro-sex female in the business who both acknowledges and understands the complex politics that surround the adult industry.  Care to read her feisty responses and personal opinions?  Well, here's your chance…
—————————–
Tell us how you started your porn career. What sparked your interest in wanting to be an adult star?
Well, I wouldn't exactly refer to myself as an adult star, and I guess I worked in porn (depending on who you ask). I usually just say that I was a "nude model". Anyway, I started dancing (aka stripping) in San Francisco when I was 18, and was offered some nude modeling jobs. From there, I started doing promo gigs for Déjà vu (the club chain I worked for), modeling in their magazine, doing tradeshows, events, etc. The majority of the work was in LA, so I spent a lot of time going back and forth, and other jobs sort of opened up to me as a result. One of the girls I was working with introduced me to an agent in LA named Cam Smith. He started sending me out on jobs regularly, so I quit dancing and started modeling exclusively.
What's the biggest misconception about porn stars?
The biggest misconception I come across is that all porn stars are dumb. Don't get me wrong, there is definitely a fair share of dumb ones. But you'd be surprised at how many of the girls I meet are actually well-read, educated, street-smart, or are just all-around brainiacs. I'd even go so far as to call them nerdy. Bobbi Starr is a great example… she's hot, talented, and smart as a whip. She should be a role model for all would-be porn stars, if she's not already.
Your experience in front of the camera has undoubtedly assisted you in your efforts to photograph women yourself.  What have you taken with you in your transition from subject to photographer?  Do you have any secret tips that you carry with you to each shoot?
I think the one thing that I have that most other photographers don't is true empathy for the models. Modeling is not easy, contrary to what most might think. It's not just standing in front of a camera, and looking hot. A talented model can express emotions through her expressions, her movements, and through her eyes. Most people cannot do this. It makes me feel really bad when I see another photographer shooting a model, and getting frustrated and mad when a model just isn't "getting it". I think if you took that same photographer and put him or her in front of the camera and started yelling the same orders at him, that person wouldn't get it either.
I think of models as artists, and like artists of any craft, there are a handful of true talents, and a whole lot of mediocre ones. I think photographers should keep that in mind and try to exert some patience when trying to get a shot. If you're not shooting a supermodel, then you probably should cut the girl some slack. Unless you're paying supermodel rates, then by all means, whatever it takes.
Iheartgirls.com has really taken off ever since its launch this past year.  Congrats!  What do you see for its future and yours as well?
iheartgirls is something I've been wanting to do for such a long time now. I bought the domain back in 2005 so that should give you an idea of how long I've had it on my mind. I would like to see it grow into a community site, eventually. I'd love to see it evolve into something like SuicideGirls, except with IHG, there are no rules. You don't have to be tattooed, you don't have to be un-tattooed. You don't have to be a certain style. Really, the only requirements for the models are that they are girls, they are cute, and they are fun.
As for me, I'd love to work on iheartgirls full-time. Right now, it's more of a pet project that I am hoping will be able to support me in time.
Within the realms of pornography and fashion, there is a definite standard of beauty.  Your work on iheartgirls.com even seems to play into this one-note idea of what is "beautiful."  Do y