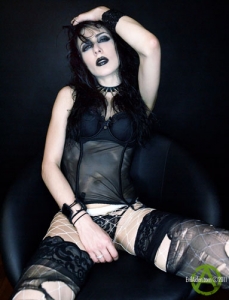 I wanted to say a few words about my grrl Aiden Ashley.  We shot the other night and had some fun as usual.  I realized it was over 6 months since we shot last and that just pissed me off.  When we get together it was no less than brilliant!  Add in some crazy and toss in some fun!  Aiden and I just have that special something that is very rare!  Two sick fucking minds that think up EVOL things!
We started of slow, but once we got started it was like the good old days.  It reminded me why I am partners with her and why l love this grrl.  She brings her best to me every time and it's my simple job to capture it all… beautiful, sexy, fun, crazy, nasty, tasty and delicious!  You gotta love a grrl that brings it all and then some.  I think we got our groove back real fast and I promise in the months to come there will be more.
I just wanted to let you and Aiden know that she is one of a fucking kind and I love her for that!  Keep coming back and I promise you will see why I'm always right!  Thanks EVOL GRRL for being you!
Your EVOL partner,
Richard Avery
PS.  Roll baby roll.