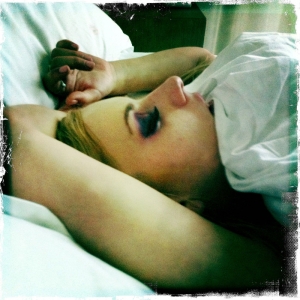 Where do I begin?  Well, I'll start here – my grrl Lexi is the queen of my universe.  I say this in entire honesty, knowing very well that my other grrls will kill me after they see this.  Despite their jealousy, I am here to tell you that Lexi Belle, also known as my fiancé and ultimate kitten-lover, is the princess of Juliland.  This crazy and beautiful woman makes me smile no matter how bad things get, which is why I call her my special grrl.  Let it be known that this is her third year in a row being a jGrrl.  From my own personal knowledge, no other lovely lady here in crazy Juliland had received such an honor, and I promise if all goes well, she will be a jGrrl every year until we die.  Sorry grrls, but she's one of a kind.
I've been asked on numerous occasions about what it's like to shoot with Lexi, and I always say that there's never a dull moment.  This last time around, we locked ourselves up at The Mondrian on Sunset Blvd. and just had FUN (you're welcome to use your imagination here, but I'm sure it wouldn't even come close to the shit I saw and participated in).  Yes, I am a lucky fuck.  Special guest Evol Grrl Aiden Ashley showed up to play as well…
From what I can remember, it was long night of fun, laughs, art, video and conversation.  I think we spent more time talking about our lives than actually shooting, and watching the sunrise come up was amazing, to say the least. The more we shoot and get to know one another the better it gets!  That's what makes Juliland.com so special – it's the relationships, the fun, and the experience of it all.
I love Lexi for everything she brings to Juliland and me.  She has never let me down and has always had my back.  Love you my queen. Now, let's start planning this wedding.
XOXOX,  Richard