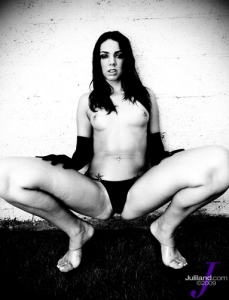 You know I love my Mexican food, and you know I love me some nasty porn stars.  Together, you get a super hot meal with a lot of salsa!  Muy caliente!  I had the pleasure of catching up with one of my favorite grrls, like the sassy Tiffany Tyler, the other day.  Just seeing those long legs brought back so many great memories.  We lost touch in the last year and had a lot of catching up to do!  So, we went to my favorite Mexican Restaurant in Hollywood, Lucy's El Adobe, and had lunch.  Yummy with a capitol YUMMY!
She has been a busy grrl and is looking better than ever.  Her smile, those insane blue eyes, and that nasty body made me wanna crawl across the table and dip my chip in her salsa!  ;-)  During lunch we talked about work, sex, work, sex and did I say sex?  I always have a special place in my heart for Tiffany because it was Tiffany that introduced me to EVOL grrl Aiden Ashley, my little partner in EVOL.  Just over a year ago she had me meet Aiden and the rest is history!
After lunch we went back to my place to discuss shooting some more fun and creating some new art.  I'm happy to tell my friends and fans there will be more of Tiffany at Juliland.com very soon.  We have some sick ideas that include more nasty, sexy, crazy, dirty fun that will make you sweat. Stay tuned to Juliland.com and trust me, you ain't seen Tiffany like this before!  Yum yum!