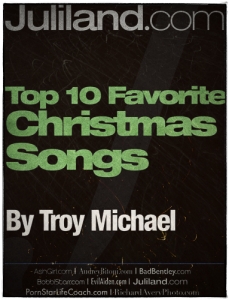 When the editor of Juliland asked me to make up a Top 10 list of my all-time favorite Christmas songs, well frankly, i didn't want to do it. I don't know why i didn't want to do it though, that's the bitch of it all. I like Christmas songs, hell i even like Christmas to be honest. They could dial it down on all the gluttony and materialism of it all, but hey, they's America for you. Over do it and shove it in everyone's face. Let's see them write a song about that!!
My Top 10 Favorite Christmas Songs- (in no particular order)
Band Aid – "Do They Know It's Christmas"
It was the early 1980s and musicians loved to gather to do charity work through their music. So rock 'n' roll legends Bob Geldoff and Midge Ure decided to assembly one of the biggest star-studded gatherings to release a single to raise money for relief of the 1983–1985 famine in Ethiopia.
The 1994 single was "Do They Know It's Christmas," and it became the biggest selling single in UK Singles Chart history, selling a million copies in the first week.
The original Band Aid ensemble consisted of:
Adam Clayton (U2); Phil Collins (Genesis); Bob Geldof (The Boomtown Rats); Steve Norman (Spandau Ballet); Chris Cross (Ultravox); John Taylor (Duran Duran); Paul Young; Tony Hadley (Spandau Ballet); Glenn Gregory (Heaven 17); Simon Le Bon (Duran Duran); Simon Crowe (The Boomtown Rats); Marilyn Keren Woodward (Bananarama); Martin Kemp (Spandau Ballet); Jody Watley (Shalamar); Bono (U2); Paul Weller (The Style Council); James "J.T." Taylor (Kool & the Gang); George Michael (Wham!); Midge Ure (Ultravox); Martyn Ware (Heaven 17); John Keeble (Spandau Ballet); Gary Kemp (Spandau Ballet); Roger Taylor (Duran Duran); Sara Dallin (Bananarama); Siobhan Fahey (Bananarama); Pete Briquette (The Boomtown Rats); Francis Rossi (Status Quo); Robert "Kool" Bell (Kool & the Gang); Dennis J. T. Thomas (Kool & the Gang); Andy Taylor (Duran Duran); Jon Moss (Culture Club); Sting (The Police); Rick Parfitt (Status Quo); Nick Rhodes (Duran Duran); Johnny Fingers (The Boomtown Rats); David Bowie; Boy George (Culture Club); Holly Johnson (Frankie Goes to Hollywood); Paul McCartney; Stuart Adamson (Big Country); Bruce Watson (Big Country); Tony Butler (Big Country); Mark Brzezicki (Big Country).
Bob and Doug McKenzie "12 Days of Christmas" 
Simply Genius. Bob and Doug McKenzie (aka Rick Moranis and Dave Thomas) are two Canadian fictional characters who made appearances on Canada's famed SCTV. The comedy duo of Moranis and Thomas became popular regulars thanks in part to their idiocy, love for hockey and beer. The two went on to make a couple comedy albums and a television cartoon, but the coup de grace was their 1983 cult classic film "Bob & Doug McKenzie: Strange Brew."
The two crazy Canucks released their wacky version of the "12 Days of Christmas," and it became an instant classic.
Chuck Berry – "Run Rudolph Run"
Written by Johnny Marks and Marvin Brodie, "Run Rudolph" was made popular in 1958 by blues legend Chuck Berry. The upbeat song brings a little rock to Christmas and has been covered by everyone from Lynyrd Skynyrd, Dave Edmunds, Sheryl Crow, The Grateful Dead, Keith Richards, Billy Idol and Conan O'Brien along with Jimmy Vivino and the Basic Cable Band, just to name a few.
Bing Crosby and David Bowie – "Peace on Earth/Little Drummer Boy"
This is one of the very first holiday videos I think MTV played back in the day. I love this version, but to this day, I'd love to know who had the idea of pairing up Bowie and Crosby and what it took to get them together.
Vince Guaraldi – "Christmas Time Is Here"
As a kid, Snoopy was my favorite cartoon character. I watched all his specials on television, even had a few snoopy dolls. By far, the Peanuts Christmas special is one of the best to ever air on television, The cartoon, as good as it is, might not have been as good if it weren't for the magical playing from Vince Giraldi. Not only is this a classic Christmas song, but can be played year around.
Eartha Kitt – "Santa Baby"
If ever there was a sexy Christmas song, this is it. Eartha Kitt was the perfect part for this song. She was a pure talent who found success on the stage as an actress; she also was a star in television and films. She had sex appeal, she has confidence and she was the original Catwoman. The irony of this song choice is, Eartha died on Christmas day in 2008.
Brenda Lee – "Rockin' Around the Christmas Tree"
This might be a big surprise to people that I like this Christmas song, but I don't just like it, I love it.  I don't even know that much about Brenda Lee except for this song to be quite honest, but this song makes me think of decorating the Christmas tree on a cold snowy night.
This song has been covered year after year, but the original was released in 1958 on the Decca label and still holds up today as a Christmas classic.
John Lennon & Yoko Ono – "Happy Christmas (War is Over)"
You can't make a Christmas play list without this song. Not because it's John Lennon and he was a Beatle, but because it is a damn good song which amplifies everything about Christmas – love and peace.
The song was written by John along with his wife Yoko Ono and released in 1971 as a single by John & Yoko/Plastic Ono Band with the Harlem Community Choir, which completely elevates the song to another level with their background vocals.
Darlene Love – "Christmas (Baby Please Come Home)"
There is something about Christmas songs with big backing choruses. Darlene Love's "Christmas (Baby Please Come Home)" is another R&B timeless classic which brings good thoughts and cheer to the holidays.
Released in 1963 on a Philles Records compilation, the song soared to such heights that David Letterman has had Darlene Love on his show every Christmas for decades to sing this song. It is so popular, major bands such as US, R.E.M., Joey Ramone, The Raveonettes, and KT Tunstall has covered it. But there is nothing like the original.
Bruce Springsteen – "Santa Claus Is Coming To Town"
If you are looking for a little power, passion and New Jersey soul in your Christmas, look no further than Bruce Springsteen covering "Santa Claus Is Coming to Town"
Usually, it's the original version, which was written by John Frederick Coots and Haven Gillespie and was first sung on Eddie Cantor's radio show in November 1934, but it's the Boss' version that gets me rockin' on Christmas.
Courtesy of Tory Michael & Innocent Words