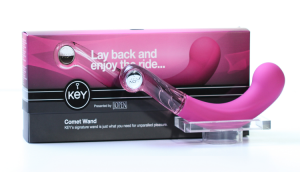 I bet Dumbledore didn't see this one cuming!  Jopen's new Key collection presents to their adoring fans an unparalleled wand to truly stir up some magic in the bedroom and beyond.  Known more formally as the Comet G Wand, this particular toy has a durable glass body dipped in soft and luxurious body-safe silicone.  Unlike many other products on the market, the Comet G is stamped with a one year warranty in the unfortunate event you love it just a little too much.
When I first laid my eyes on this pink perfection, I was taken back a bit by how stunning it appears in real life.  I had swooned over it incessantly for months in my spare time, but alas, a screen prohibited us from properly meeting.  Once it finally laid in my hands (and then on my bed), it definitely did not disappoint.  Jopen found a means to seamlessly marry practicality and artistry.  As for myself, I uncovered the intersection between Harry Potter and Whorey Potter.
Now safe and sound in my drawer full of goodies, my Comet G puts every other curved novelty to shame.  It's my go-to guy for G-spot stimulation as well as pure vaginal pleasure.  My partner grips onto the glass handle, pounds in and out, and away I go to Hogwarts.
In the words of Jopen, "Lay back and enjoy the ride."
Yours truly,
Scarlett Stone
Follow Scarlett on Twitter!