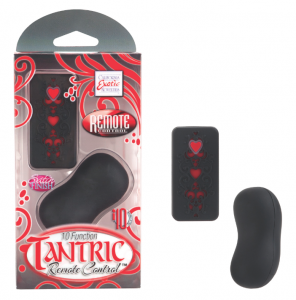 Ever since the ingenuity of the remote control in the early 1930's, clickers have found a permanent place in our living rooms, man caves, and our hearts.  More recently, however, they have been purchased and placed in bedside tables awaiting the moment when they can finally push your buttons back.  Thank you, California Exotics, for bridging the gap.
The 10-Function Tantric Remote Control appears to be the lost vibrator belonging to none other than the Queen of Hearts.  No wonder Miss. Majesty was always so abrasive.  Alas, her loss is our gain.  This beautifully designed toy is ergonomically curved to fit comfortably in panties, and its black, satin finish is a dream realized.  Not only is the Tantric Remote Control aesthetically pleasing, but it also has a 10'/3 m range sure to get your blood boiling and juices flowing from the next room.  The wireless clicker allows for truly successful couples play further enhanced by the element of tantric surprise!  Ten functions, pulsations, and escalations later, and you'll be confusing your TV remote for the one lost between your thighs.
Yours truly,
Scarlett Stone
Follow Scarlett on Twitter!