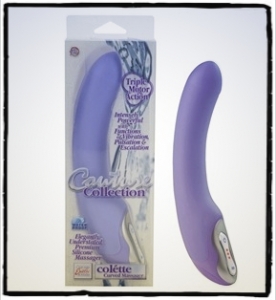 I've said it once, and I'll say it again – vibrators are a girl's best friend.  Forget the diamonds, the sports cars, the luxury handbags, and the oh-so-unnecessary designer apparel. It's truly all about the personal massagers, and this month, the focus is on California Exotic's Couture Collection Curved Colétte Massager.  Personally, I'm quite picky when it comes to what can and will make me cum.  So you can only imagine my excitement when I came across a product that was affordable, easy to clean, and did the job with flying colors.  And did I mention it made me cum?
The Curved Colétte Massager comes in either light pink or lilac with three intense motors strategically positioned throughout the shaft.  Now, what I love about this vibrator is the shaft itself – it's made entirely out of a soft, unscented silicone that aids itself to an easy clean up with just a dash of warm water and soap.  Afterwards, you essentially find yourself with a spanking new, spotless vibrator free of any residue.
California Exotics market this product as "whisper quiet," but from personal experience, this lovely toy is anything but quiet.  The seven powerful functions of vibration, pulsation, and escalation (yes, escalation) make for a wild experience in the bedroom or in the shower.  All you need are 3 AAA batteries, a sexual appetite, and a little imagination.  The Curved Colétte Massager is great for double penetration, both vaginal and clitoral stimulation, and it hits the G-spot beautifully.  Now the only question is, what are you waiting for?
Your's truly,
Scarlett Stone