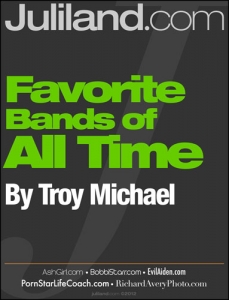 You know how some music fans from the south are so dedicated to Lynyrd Skynyrd that they don't think any good music has come out since the 19770's? That is kind of how I feel about the 1990's. For one reason or another, even though I was a child of the 1980's, it is the great Northwest music scene which still resonates with me. It is "my decade" for music. Throw in a little diversity rock and you have my favorite bands of all time.
Johnny Cash
Johnny Cash and I share the same birthday, only he was born 39 years before me. As a fellow Pisces I can see a lot of the same traits in each of us, not to say I am remotely as talented as him. Not only is Cash's music timeless, but he stood up for the fallen, the beaten down by life types. He was a big supporter of people who were dealt a bad hand and tried to help them even though he was dealing with demons of his own. If that's not a hero I don't know what is.
Concrete Blonde
Like many, I became aware of Concrete Blonde with their hit single "Joey." As with most bands I come to love, I had to dig deep into their archives. When I did that with this trio, I discovered that they were far from a one-hit wonder. Concrete Blonde was and continues to be a great band that is hard to pigeonhole. That is one reason why they are so great. In addition, front woman and bassist Johnette Napolitano writes beautiful songs about ghosts, spirits and the dark side of life.
Garbage
From the moment I send Garbage's debut video and then heard their debut album, I knew they were going to be one of my all-time favorite bands. Sure front woman Shirley Manson is gorgeous, but the musical talent by all four members is immeasurable. It's too bad the band were only known early on because of drummer Butch Vig's association with Nirvana and a handful of great bands from the 1990's. But it did get their foot in the door. Musically mixing alt rock with electro pop was a new thing for me and frankly I was surprised I loved it, but when you do it as well as this quartet, you can't help but love it.
Jimi Hendrix
Known as arguably the greatest guitar player of all time, people don't look beyond that with Hendrix. This guy had a pretty tough upbringing being raised by a single father because his mother didn't want him. He also served in the military as a paratrooper. He learned his hard work ethics from his father and used those skills to work his way up the musical later being a backup musician for the likes of Little Richard. Still, all that aside, in a three-year span of his short-lived career, Hendrix changed music forever.
King's X
Sitting at home one Saturday night in 1988 watching MTV's "Head bangers Ball" I discovered King's X when they played the video for "In the New Age." It was the height of hair metal and here's this three-piece band with a black guy with a Mohawk playing left handed bass in a rock band. Their sound was like Black Sabbath took over the Beatles, like nothing I had ever heard before and frankly, it changed my life.
Led Zepplin
I always knew Led Zepplin was a great band but the fact that EVERYONE loved them kind of annoyed me. People would cite Zepplin as the greatest band in the world based on only hearing "Stairway to Heaven," a song I'd be happy to never hear again. So I liked them, but didn't LOVE them until a few years back. Once I got older and realized just how amazing they were it blew me away. As individuals this quartet is some of the most talented to ever be in a band and the fact they were all in the same band was mind numbing.
Mother Love Bone
Oh what could have been? Loving Mother Love one is bittersweet because they could have been huge. But if front man Andrew Wood didn't pass away there wouldn't be any Pearl Jam. To this day I think Andrew is the guiding force behind Pearl Jam's success and longevity. The sound the band got on their first two and only albums is fantastic. Plus Wood was a pure showman with an ability to play with words.
Pearl Jam
Funny story about Pearl Jam for all those who know they are my favorite band. The first couple of times I heard them on MTV I didn't like them at all. Then I went to my friend's wedding and he played me "Why Go" and I fell in love with them on the spot. It's hard to believe they've been around for 20 years and even though my love for the band has softened a little bit, they are still my all-time favorite rock band.
Tom Petty & the Heartbreakers
Seriously, is there a better song writer in American music? Even in my big hair metal days I still loved Tom Petty and the Heartbreakers and now they are a very close second to Pearl Jam as my favorite. Also the fact that he stood up to a major record label when it was unheard of took balls and he's maintained that integrity for over 30 years.
Prince
He may be small in stature and his ego may fill the arena's he rocks, but there are very few as talented as Prince. He can play something like a dozen instruments, he can produce, he can dance, and he can do it all. It's too bad his eccentricity has become more noted than his music as of late, but he still reigns as the Purple One.
Soul Asylum
I still remember it like it was yesterday when I walked into my local hang out i.e. indie record store and saw a guy I went to grade/high school with that I hadn't seen for a couple years. I had an arm full of CDs, and he suggested Soul Asylum's Grave Dancer's Union. Since hearing that album, the Minneapolis rockers have been one of my all-time favorite bands. Front man Dave Pirner's ability to turn a phrase in a song is great and lead guitarist Daniel Murphy is one of the best. Though not on the radar of most, Soul Asylum continues to make great records and tour incessantly playing where ever whenever people will have them.
Veruca Salt
I got to show my home-state rockers some love. I've always loved chicks that can rock with the best of them and Veruca Salt has a pair of the baldest chicks in a rock band. Though Nina Gordon and, Louise Post carried the Veruca flame to release a couple of great records. There is just something about girls who can play killer guitar riffs and show the male dominated industry what's up. The band hasn't done anything in a couple years now but long lives Veruca Salt!
Courtesy of Tory Michael & Innocent Words