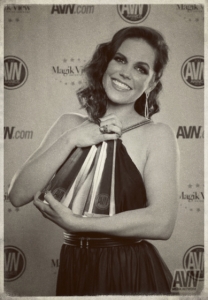 What happens in Vegas is ALL good in Vegas!  On January 21st, 2012 our amazing Bobbi Starr went to the AVN Awards and won the industries highest honor – Performer of the Year for 2012!  In my opinion, she deserved this award like no other.  She had an amazing year in 2011, performed for many companies and sites, started directing for Evil Angel, and started BobbiStarr.com with us.  Who else did all that?  Who else did it as good as Bobbi?  Sorry to say, no one.
But her awards didn't stop there.  She also won Best POV Sex Scene, Best All-Sex Release Mixed Format for her directorial debut, Bobbi's World, and MOST of all, she won Best Porn Star Website!  Holy fuck!  It can't get better than that!  She is multi-talented and these awards prove that big time.  The scary thing is that it's only going get better from here.  Bobbi's talent is endless and I know for a fact she has a serious vision for more fun in the future.
We just want to say congratulations to our best friend, our amazing talented friend, and our inspiration, Bobbi Starr.  YOU deserve ALL these awards and more.  We will always have your back.  Thank you for being you and for being the best!!!  WE love you here at Juliland and ALWAYS will.  Woo hoo!
Photo Courtesy of AVN.com