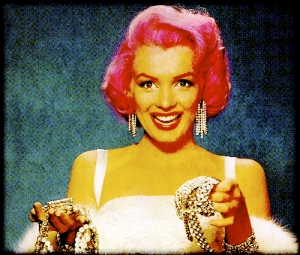 In the year 1953, the infamous blonde bombshell, Marilyn Monroe, told us two little white lies.  Firstly, she told us that gentlemen prefer blondes, a statement that is a false overgeneralization.  Secondly, she told us that diamonds are a girl's best friend, a phrase that I personally happen to disagree with.
To assume that all men prefer blondes is like assuming that all men have nine-inch dicks – highly unlikely and a complete waste of time (and anyways, would we all want men with nine-inch dicks roaming the planet?  Most likely, they'd bring new meaning to the term "cocky").
I believe there's something to be said for diversity.  Just as there's a large range in penis size, there is also an extreme variety in hair color.  And just as many women embrace assorted phalluses that cum their way, gentlemen (and women too for that matter) should also embrace black beauty manes, red headed vixens, peppered mops, white waves, and multi-colored strands.
Think of it this way: to say gentlemen prefer blondes would mean we'd have to bid farewell to Bobbi Starr, Aiden Ashley, and Andy San Dimas.  Lord knows we'd be lost without them!  Luckily for us, however, we'd be left with lovely ladies like Ash Hollywood and Lexi Belle, two grrls that remind me Disney princesses in every single way (excluding the fucking on camera aspect, of course).  But it wouldn't be the same without all of our Juliland dolls.  And for that reason alone, I hope you all find beauty in variability.
Now, Marilyn's second lie has also presented itself to be problematic in more ways than one.  To those men out there who believe that women solely want expensive things, I hope you hear me clearly when I say that diamonds are both overrated and unoriginal.  Bake me a cake, paint me a picture, or take me to the Wizarding World of Harry Potter!  Not all women are gold diggers, just as not all men have nine-inch dicks.  Are you sensing a pattern here?
Despite how unbelievably stunning Marilyn looked in that bright pink, skin-tight gown, the fact of the matter is that she spoke of falsehoods that now, I must undo.  Diamonds are not a girl's best friend.  Poor darling was sadly mistaken when she sang that song in the mid 1950's.  If only she knew the truth that a nice vibrator is a girl's best friend.  Or if used properly, a nice dick.  But unlike penises, vibrator's can be studded with gems and pearls, and they rotate and shake with the press of a button.  And did I mention that they're battery operated?  No refractory period, no frustrations.
Your's truly
Scarlett Stone