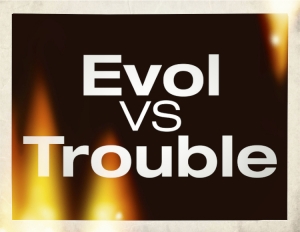 OMFG!  What is worse?  What is better?  Who are these grrls and why do I love them both?  What the fuck am I talking about and do you really care?  I just want to express my love and respect for two of my favorite grrls in the Juliland Universe: Aiden Ashley and Ash Hollywood, one sexy, sassy blonde and one sultry, moody brunette.  OR as I call them, trouble and evol, to keep it short.  Both make me smile and both make me crazy!
First, let me start with EvolGrrl Aiden.  You are slowly getting to know her by following her on twitter, and of course, checking out her site EvilAiden.com.  BUT I'm here to tell you a bit of a secret about my Evol grrl, something that know one really knows – she is Evol alright, but she is always a softy.  She has such a big heart and wears it on her sleeve.  She's the kind of grrl that would slap, choke, and beat you one minute, and then hug you the next.  She will kill me for telling you this, but that's why I adore her so much.  She is my EVOL grrl.  And while I don't really like to share, I will share with you.  I suppose it's because I'm nice.
Now, Trouble has a new name, and it's Ash Hollywood!  She is trouble in so many ways it hurts.  But, it's the kind of trouble I love to swim in, take a bath in, and roll around naked in.  I only know Ash because of Aiden.  It tells you how evol Aiden is when she brings only trouble into my life.  Ash loves to tease and torment.  She loves to abuse and fuck with me.  If it was an Olympic sport' she would win GOLD without even trying.  She gets off by making trouble for me.  Lucky me?  I think so.