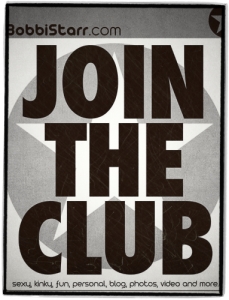 To not join BobbiStarr.com is the equivalent of not voting.  In both instances, you're luckily of age, you have the opportunity to do so, yet you refuse to exercise your right.  By passing up these chances, you're not only moronic, but you're also missing out on a whole lot of action.  In the case of Bobbi's baby, BobbiStarr.com, you'll be regretful in tears when you hear how much sex appeal and original content is being bestowed upon her followers TWICE a week!
In addition to frequently updating her website, Bobbi has gained worldwide and adult industry support as seen by her multiple wins at the AVN Awards.  Just this year she took home Female Performer of the Year, Best All-Sex Release, Best POV Sex Scene, and Best Porn Star Website.  So as you can see, to not join Bobbi's web-world would be somewhat similar to a criminal offense.
With the help of Richard Avery, Jette Violet, and the Juliland Universe, Bobbi Starr's content is unmatched and unparalleled.  Unlike other grrls in the adult business, Bobbi produces, directs, and stars in all of her content.  And if you don't see her on screen, you can be sure she's behind the camera or in the editing room giving her two-cents.
By joining BobbiStarr.com, you'll also learn a thing or two.  Perhaps you'll learn what makes a woman tick, how to please a grrl from the inside out, or how to properly fetish your female.  Therefore, the question of why you should join isn't as important as when.  The answer is simple – right now!  If you wince or wine, distrust or doubt, the Starr will unquestionably spank you with the clout of a thousand suns.  So be ready, be smart, and JOIN!
Yours truly,
Scarlett Stone
Follow Scarlett on Twitter!