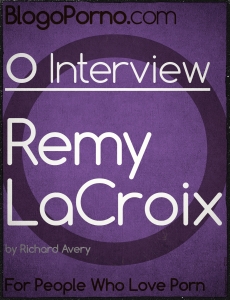 I am one lucky fuck!  I had the chance to sit down with super star Remy LaCroix and asked some of my toughest questions ever!  ;-)  Seriously, Remy is one of the coolest grrls I have ever met and photographed.  Like I said, I'm a lucky fuck.
What is your favorite Disney movie of ALL time?
This is a cruel, cruel question to ask of a Disney girl… but I'd have to say out of all of them, Aladdin. It's the one I remember the most as a kid, and I'm pretty sure I got busted in PRESCHOOL for re-enacting the kissing scene with a boy under the slide.
What do you love about porn & what do you hate about porn?
I love the sex & being so openly my vulnerable self, and I absolutely hate the competitiveness, between the women especially.  We are all our own person with so much different and good to share with our fans and community — I think the porn industry, mainly women, should be encouraging that amongst each other instead of letting things become clouded by jealousy and childish gossip. We all love to and have to fuck each other — might as well make it something you can be proud of in your heart forever.
Is there anything in porn that grosses you out and would never do?
DV/DA. Never planning on intentionally doing that, although I don't see something like that just *happening randomly*, LOL.
Who would you hate to see naked?
Like, one of my aunts or uncles or something.
What quality do you admire most in a man?
A pure & happy heart.
What is the one thing you refuse to share?
My personal munchies, especially when I'm high haha.
What is your favorite exercise to do at the gym?
What's a gym?
Whats the secret to great sex?
Being intuitive with your partner, reading their body language; paying attention to every breath, every moan, learning and knowing all the right buttons yourself.
Where is the strangest place you peed?
Off the side of a NY freeway.  While Phoenix Marie Vined it.
Fuck, Marry, Kill… Jada Stevens, Lexi Belle, Ash Hollywood
Fuck Jada. Marry Lexi. Kill Ash.