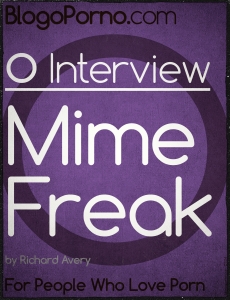 What do you love about your job most?
I guess you could say that I love how secluded my job is. I didn't aim to be a pornographer. I just happened to be at the right place at the right time. Sometimes I just sit and think about my career and how most guys would love to trade places with me. So in a nutshell I think the rarity of being a pornographer is the best part of my job. Plus I get to express myself through the form of a lens and that's great as well.
Where do you get your inspiration from for you art?
I get my inspiration from life. I look at all things and find inspiration. Whether it be a song, a plant, or a simple vision that I might come across. I also have a very deep dark place where I get inspiration from but I don't share that due to it being something I use to fuel my motivation.
If you could have dinner with any famous person (dead or alive), who would it be and why?
Damn that's a good one. The person that comes to my mind is Richard Pryor. There's nothing like a funny comedian. In life I enjoy laughing and making others laugh as well. Richard Pryor broke so many barriers when it came to being a comedian. Richard took comedy to levels that were unheard of. I would question him about where his passion really came from and what gave him the confidence to say what he said even though so many people didn't think it would work.
What is the one bit of advice you would give to any person wanting to get into the "porn biz"?
I would tell anyone trying to get in the business that, "it's work!" People assume that it's sex, money and hot chicks. This industry is a business. It's a business where the weak gets eaten and the strong survives. In this day and age so many men and women are porn stars. What I mean by this is anyone with a camera phone is capable of shooting something and posting it on the internet. So with that in mind, what can you do to stand out and give people something that would like to see.? Anyone that is trying to make a career in this business needs to know what steps to take, what rules to follow and how to go about conducting themselves as a business person.
What makes a grrl that fucks on camera a "porn star"?
To me a porn star is a women that never gives a bad performance. Any chick can get naked to suck and fuck but it's those girls that are able to perform to a level where you believe that you are apart of that scene. Those type women are true Porn Stars. Three girls stand out when I think of that question. Tori Black. Asa Akira. Bonnie Rotten.
What kind of gear do you use?  (this is for all the tech heads)
I use a Panasonic HPX-170…Canon 5D Mark III and Canon 70D…
What was or is your most embarrassing moment on a porn set?
I don't think I personally had an embarrassing moment. However the most embarrassing thing I've ever seen came on a set that I was working on. The scene was a milk enema scene. There was one chick that thought it was a good idea to drink Starbucks right before this type of scene. Not really wanting to be an ass I politely asked her if she would be okay for the scene even thought she's drinking coffee. She looked at me and said I got this I'm a professional. So twenty minutes later the scene is underway and we load the girls up with milk. Now usually we have girls do a test squirt and she decline because she knew she would be clean. We call action and "Miss Professional" pushes milk out her ass onto the other girl and BOOM, BAM, WHAM…there goes coffee, sesame seeds, red peppers and other objects I couldn't recognize that were on display on the other girls stomach. The director laughed at her gave me the camera and told me that he was leaving. The girl that was blasted had the most funny expression on her face while stnading there with her arms out. Miss professional sat there blood shot red and speechless. I wanted to laugh so hard but I looked at Miss Professional and told her I will be calling your agent for a kill fee. Hahahaha
Why did you choose Elegant Angel and what do they bring to you?
I didn't choose Elegant Angel. Elegant Angel chose me. I was a camera man for a director that worked for Elegant at the time. Elegant was making changes and Carlos Dee approached me with an offer I couldn't refuse. When you think of Elegant you think of the ultimate porn experience. At Elegant we have a "We Empower Women" motto. I'm all for giving women the chance to live out their fantasies thru my scenes. This is the only company where we sit down with women we want to cast and ask them what their ideal scene is. At Elegant we want to have each women shoot something they are proud of. I try to accomplish that with every scene I shoot and Elegant supports me 110%
What is the future hold for Mime Freak?
The sky is the limit. The immediate future is branching out into the city to bring awareness to homelessness. Los Angeles has a homeless problem that's overlooked and growing rapidly. When the world thinks of Los Angeles they think of the glamour lifestyle. However there is a dark side to Los Angeles that needs immediate attention. So in the near future I will be working on a huge project that will hopefully generate attention to a growing problem in my city.
Last, What is the Freaky Crew and how does someone get into the Freaky Crew?
The Freaky Crew is a unique club that I created that consist of fans and performers together for two goals. Those goals are to show support and unify both sides of the industry. The fans have a huge impact on our careers and the performers are giving the fans some of the stuff they want to see. The reason why I say "some" is because there are a lot of things the fans what to see the performers do. To be apart of the FreakyCrew all you have to do is follow DarkFalcon89 on twitter and he gives performers and fans instructions of what you need to do. If he approved them, they are FREAKY CREW!