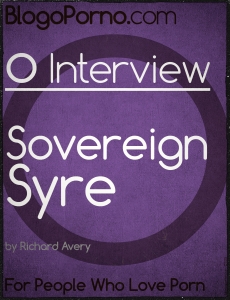 Yo!  Had a chance to sit down with the newest member of the Juliland Universe Sovereign Syre for a little Q&A.  You gotta love Sov and if you do check out her new blog iLoveSov.com.
Who or what got you into porn?
Long story short? Twitter.
Name 5 "porn stars" you admire and why?
Asa Akira: charisma coming out of her ears and amazing work ethic.
Dana DeArmond: a decade long career and one of my favorite people to work with.  I don't think she's turned in a bad scene.
Dana Vespoli: she's called me her muse and how can you not admire that. Beatiful, intelligent, and fearless.
Jessie Andrews: Hasn't allowed porn to be what defines her, but let's it be something that makes her interesting.
Stoya: Beautiful, intriguing, an unconventional…and still quite popular.  It's like a magic trick or something.
What question do you hate the most?
What's your favorite position?
Do you watch porn?  If so, what kind?
No.  I read a lot of erotica though.  I find it more satisfying to use my imagination and fantasize about well developed characters.  Written stories aren't bound by rules of physical dynamics, time, or legality.
How often do you masturbate?
3-5 times a day.
What is your favorite Disney movie?
Pinocchio.  The scene where the little boys are taken to the fair and turned into donkeys is still the creepiest thing I've seen.  It was a metaphor for turning tricks right?
Who would you hate to see naked?
My dad.
What do you do to relax?
Fantasize about destroying all of my enemies completely.
What is so great about anal sex?
Being able to say you do it.
Fuck, Marry, Kill… The Scarecrow, The Tin Man, Cowardly Lion
Fuck the Tin Man.  Heartless sex would be some great sex.  Patrick Bateman style.  Marry The Scarecrow.  He doesn't have a brain so you could just put him to work and he'd never argue with you.  Kill the Cowardly Lion.  I'm so bored of cowards.