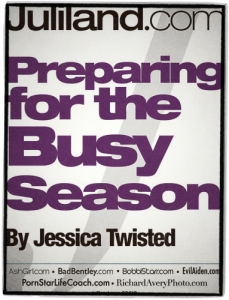 Marley woke me up with a text message this morning.
Marley: WOMANNNN!!!
Twisted: MARLEYYYY!!! Whatttttt
Marley: I can't wait to rage on Saturday!!
Twisted: ME TOO! It's gonna be so much better this time!
Marley: Why?
Twisted: Because you'll be there!
Marley: Aww you're so sweet!
Twisted: :* Also I won't be tripping balls so that'll be nice!
Marley: LMFAO I love youuuu!
Twisted: We need a survival kit.
Marley: Way ahead of you. I have pop tarts and rum.
Twisted: Perfect! I'll bring a ouija board and vodka gummy bearssss!
Marley: OMG YES! Last and biggest rage of the summer!
Twisted: Yes! and then… BUSY SEASON!
Marley: We're take all those mens moniesss!
Twisted: Makin paper!
Every industry sucks during the Summer. Especially stripping. I hate dancing during the summer because we're all dead. And my club has a faulty air conditioner and I am not about to do six hours of intimate cardio in a 110 degree club. A lot of girls escape the heat and slow season by hopping up to Vegas for a few weekends. Some of us tough it out.
But when school gets back in session? That's the time we strippers live for! In my experience, there are two busy seasons: September through Thanksgiving, and mid January through May. Holidays are hit and miss. I don't like that time of the year because most people are saving their money for presents, not strippers. Some girls like it though because that's when the lonely regulars come out and spend all their money because there's no one else to spend it on.
So now that lake season is over, I'll be dragging my lazy ass back into the club with guns blazing! …and by guns, I mean boobies. Really, my game is gonna be tight this season! What have I done to prepare, you ask?
Well first, a strict regimen of cardio and lifting. Getting my pole reinstalled in my apartment so I can work on my pole tricks and get all toned up. New extensions, getting my hair done, waxing everything, spray tan and slutty acrylic nails. Ordering new shoes because I killed mine last time I worked when I was over zealous on the pole. But wait, there's more…
I applied to make Twisted an LLC and got business accounts so I can do tax write offs for my stripper gear. And the best part? Once I get my iPhone I'm getting a card reader so I can accept credit and debit in the club without going to the ATM. I can't count the number of times I missed out on a dance because a guy didn't have cash and didn't want to go to the ATM.
That's right. It pays to be a stripper with financial savvy. ;)