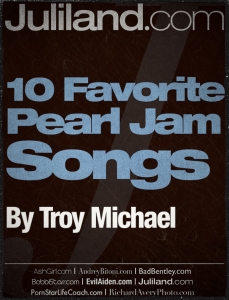 Picking my ten favorite Pearl Jam songs out of the hundreds they have recorded over their 20-plus year career is a monumental task, but one worth taking on.
Truth be told, I didn't like Pearl Jam when I first heard them, I was still caught up in that time between hair metal and Guns & Roses. Then one day while in Ohio to attend a wedding my best friend played me "Why Go" and I was hooked. Ever since then Pearl Jam has been my favorite band.
Following their career from their masterpiece debut 'Ten' to their latest release 'Lightning Bolt' I have seen the band go through highs and lows, release several side projects and solo albums and continue to do countless work with charities. There are many reasons Pearl jam has a rabid following of fans, the music may have brought the fans in, but the band keeps them there.
Taking my ten favorite Pearl Jam songs is nearly an impossible task. You could almost rate your ten favorite songs by album or even decade or ten favorite solo songs or side projects; the options are endless. I climbed the mountain of Pearl Jam songs and listened, and listened some more, and the list (in alphabetical order) I came up with is below, but ask me tomorrow and I am sure the list will be different.
Song: Alive
Album: Ten
Released: August 27, 1991
Written by: Stone Gassed
Arguably the most popular song on my list, "Alive" is where it all began for Pearl Jam. The song was written by guitarist Stone Gossard and compiled on a cassette tape with two other songs, which eventually found their way into the hands of Eddie Vedder. He put lyrics to the music and a short time later Pearl Jam was born.
That alone is one reason why I put this song on the list, but the opening guitar riff contains so much emotion, as does the entire song. When Vedder sings the opening verse, "Son, she said, have I got a little story for you / What you thought was your daddy was nothin' but a…While you were sittin' home alone at age thirteen / Your real daddy was dyin', sorry you didn't see him, but I'm glad we talked…" it is so raw because it was his life at the time. You can't get much more real than that.
Song: Breath
Album: Singles Soundtrack
Released: June 30, 1992
Written by: Eddie Vedder, Mike McCready, Jeff Ament
One of the many early rarities, "Breath" was on the soundtrack to the monumental Cameron Crowe film "Singles." The song is clearly about escape and finding yourself in a hard world. The words are a bit mysterious, but the line "if I knew where it was I would take you there but there's much more than this" pretty much envelopes the feeling of the track. This is early Pearl Jam at its finest with its low end guitar playing, plenty of groove and bursts of emotional angst.
Song: Corduroy
Album: Vitalogy
Released: December 6, 1994
Written by:  Eddie Vedder
To this day "Corduroy" is one of the most popular songs in the Pearl Jam live set, which is a bit ironic since the song was written by Vedder as a reaction to the popularity the band was getting. Fans couldn't seem to get enough of Vedder, stealing his clothes, notebooks etc., and he was trying to convey that he was/is a regular person and didn't want that "God-like" status. The breakdown lyrics "Can't buy what I want because it's free…Can't be what you want because I'm…" is so profound and, yet, a little sad. But again, the groove of the song is just magnificent and is easy to see why it's a crowd pleaser.
Song: Footsteps
Album: Lost Dogs
Released: November 11, 2003
Written by:  Stone Gossard / Eddie Vedder
The first time I heard this song was on an import CD single to the massive hit single "Jeremy." I knew after the first listen, "Footsteps" would become one of my all-time favorite songs by Pearl Jam. It came at a time in my life when I was struggling to find myself, to find everything. It was a hard time but the perfect time to find this acoustic ballad. It is a simple demo with just vocals and a guitar (with a bit of harmonica). The line "I got scratches all over my arms. One for each day since I fell apart" summed up everything I was at the time and even today, when I hear this song it takes me back to a place where I didn't recognize myself.
Song: Given To Fly
Album: Yield
Released: February 3, 1998
Written by: Mike McCready
Of the hundreds of Pearl Jam songs, if I had to pick one and only one to be my favorite it would be "Given to Fly" because it has everything I love. The beautiful guitar intro by McCready sets this song to sail as it builds and builds, much like flying. The song gets heavier as it rolls along and crashes back down for the verses. It is a roller coaster ride of music and emotion "A wave came crashing like a fist to the jaw / Delivered him wings, 'Hey, look at me now' is finding the escape you need, you crave while taking punches and surviving.
Song: Hail Hail
Album: No Code
Released: August 27, 1996
Written by: Stone Gossard, Jeff Ament, Mike McCready
"Hail Hail: is one of the most overlooked songs in the Pearl Jam catalog, even the band doesn't play it live that much, but for me, it is one of their greatest. The song is a straight up rocker with quintessential Gossard guitar groove and McCready burning riffs while Vedder sings lyrics filled with questions, always searching for the answer. I get the words, and then I get to thinkin' / I don't wanna think, I wanna feel / And how do I feel? And how do I…" but when you break it down he says it best "Hail Hail the lucky ones, I refer to those in love."
Song: Indifference
Album: Vs.
Released: October 19, 1993
Written by: Jeff Ament, Stone Gossard
"Indifference" is another one of those Pearl Jam live songs where the crowd takes over the singing. It is a powerful slow burner with haunting guitars, fretless bass playing by Jeff Ament and raw emotion. Standing up for what you believe in is the theme here and when Vedder sings the two verses "I will hold the candle till it burns up my arm / I'll keep takin' punches until their will grows tired" and I'll swallow poison, until I grow immune / I will scream my lungs out till it fills this room it brings down the house" you feel it.
Song: Not For You
Album: Vitalogy
Released: December 6, 1994
Written by: Eddie Vedder
Another song written at the time Pearl Jam was getting huge and Vedder was having trouble with the success. "Not For You" is about maintaining one's personal space and sanity and getting away from it all. He sings of holding on to youth here and that's where all great things come from. Sometimes the spotlight takes away more than just your privacy.
Song: Satan's Bed
Album: Vitalogy
Released: December 6, 1994
Written by: Stone Gossard
The first time I heard this song was on an unofficial Pearl Jam bootleg and the song was called "Already in Love," which is a line in the song. Once the song made it to an official release, the title and some lyrics were changed, but overall it still has that Gossard groove, not to mention a muscular drum beat. Vedder shows a funny side to his lyrics here that you don't see too often, especially with the lines "I'll never suck Satan's dick… / again, you'd see it, you know, right round the lips / I'll wait for an angel, but I won't hold my breath."
Song: State of Love and Trust
Album: Single Soundtrack
Released: June 30, 1992
Written by: Eddie Vedder, Mike McCready, Jeff Ament
The second song from the "Singles" soundtrack and the most popular of the two.  The song is still a fan favorite with its thundering bass lines from Ament and McCready's blistering solo in the breakdown. To be honest, I have no idea what Vedder is singing about, but I am sure there is some special meaning to him in this song because he does come off pretty deep.
Courtesy of Tory Michael & Innocent Words