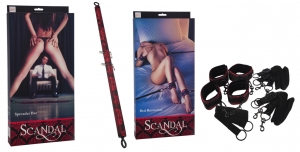 In my dirty mind's eye, the Utopia of sex toys is a product that perfectly blends ingenuity, intensity, durability, and perhaps most importantly, practicality.  It pains me to say that batteries need changing as often as my bed sheets, and those shiny bells and whistles can only go so far.  Ultimately, my pleasure is more guaranteed by a toy's readiness and prompt punctuality to make me cum.  That's why for the month of October, I'm all tied up in smiles…
California Exotic's Scandal Bed Restraints and Spreader Bar are two incredibly thoughtful items included in the 2013 Scandal collection.  While these products are technically sold separately, the bed restraint cuffs can be used on both ends of the spreader bar.  In the spirit of practicality and readiness, the Scandal Bed Restraints fashion to the underside of your mattress so you are always ready for a good cuffing.  Attached by extensions and tethers, the adjustable cuffs are constructed out of a soft, plushy fabric and designer faux satin.  You can even remove each individual tether as a means to more inventively tie up your playmate.  And for those of you with a California King – not to fear! – the extensions accommodate even the largest beds.  As if that wasn't enough, the materials used are free of Nickel for the truly sensitive souls.
For the not so sensitive souls, the Scandal Spreader Bar is an impressively solid novelty.  Complete with the same fabric finish (double-stitched to perfection), each bar is fabricated from a heavy-duty metal.  Users beware!  One slight change in movement can land you on the floor covered in unwanted rug burns and bruises.  Then again, that sounds quite lovely.
Yours truly,
Scarlett Stone
Follow Scarlett on Twitter!