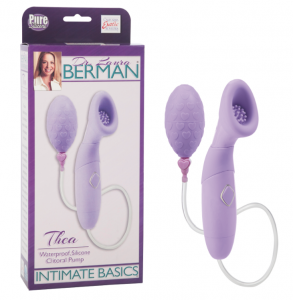 Penis pumps are yesterday's news since the ingenuity and release of Dr. Laura Berman's Intimate Basics Collection from California Exotic Novelties.  With a total of fifty toys to her debut line, the Dr. has shown that woman can not only vibrate, stimulate, massage, pulse, dilate, plug and rotate, BUT they can also pump just like their male counterparts.
Despite the ever-tedious "battle of the sexes," the male and female genitals are more alike than they are different.  While the penis and the vagina are comprised of the same genital tissue, they also share the common ability to enlarge upon arousal.  Their nerve endings are both sensational, but the female clitoris triumphs with a whopping 8,000 sensory nerve endings over the penis's mere 4,000.  Feelings aside, the female body and her erogenous zone are powerful forces that require equally powerful mechanics.  The creation of clitoral pumps essentially validates the organ's dynamic and complex nature.  And in return, women everywhere are thankful.
Speaking directly to those lucky men out there who do prevail over battery-powered hardware, I salute you (and ask that you email me ASAP).  For those of you who either come in second, or in most cases, cum first, please do not fret.  Dr. Berman's Thea Waterproof Silicone Clitoral Pump will satisfy when a little extra pleasure is necessary.  Due to the fact that only one quarter of the clitoris is visible, toys like the Thea assist in picking up and moving the hidden portion within the body.  With three intense speeds of vibration for land and sea, the pump is designed with a superior suction and release valve.  To add to its beauty, the hose of the Thea is Phthalate-free!  So run a bubble bath, travel by boat or get wet n' wild – this waterproof dream is the best combination of brains and batteries.
Yours truly,
Scarlett Stone
Follow Scarlett on Twitter!