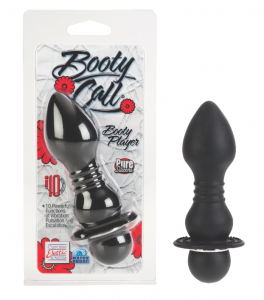 April's toy of the month may not have "anal plug" sprawled across its packaging, but it's not to hard infer its function from the ever-so clever title, Booty Call.  California Exotics' Booty Player is, as I already stated, an anal plug.  But unlike other toys used for up-the-butt-play, this product has 10 very powerful functions of vibration, pulsation, and escalation.  If you're not into activities of the anal, I still strongly recommend you buy this toy, use it for vaginal play, and then when or if the time comes for some rear end action, you'll be ready to go!
Unlike most anal plugs out there, the Booty Player has a probe made entirely out of soft and smooth silicone so it can easily slide in and out.  When dealing with sensitive orifices (especially for first time adventurists), it's so important that you pay attention to the material and texture of a product.  Nobody wants tearing or tears!  For the anal queens who simply want to prepare their sphincter for what's on the horizon, the Booty Player can also aid you in that process.  All you need is one AAA battery and…
Yours truly,
Scarlett Stone
Follow Scarlett on Twitter!