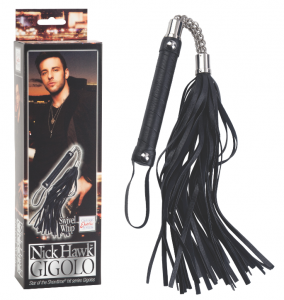 With National Masturbation Month behind us, I welcome June and all its gloom with open arms, open legs, and a hopeful smile.  After all, it's not every day you get to experience a toy that merges Devo's one hit wonder and the likes of Showtime's Nick Hawk seamlessly.
A quick history lesson would show that Nick Hawk is the creator of Orange County's Explicit Strippers, a star on the Showtime series, Gigolos, and a new partner with California Exotic Novelties.  Joining forces to create over twenty adult products, Cal Exotics and Nick have fashioned the ever-popular Gigolo Swivel Whip (otherwise known as the toy to crack June's gloom).  The rest of the collection features his molded penis, a sexual positions book, and many other items to tickle your fancy.  It's the swivel whip, however, that's held my attention for the past four weeks.
With a sturdy unique swivel design and soft, sensual tassels for tickling and teasing, the Gigolo Swivel Whip is easy to use and does not break your wallet.  But toy snobs beware!  This whip is made out of nickel-free alloy iron with silver plating and PU leather.  Made by Wet Process, PU leather is a synthetic imitation leather most commonly used as a vegetarian alternative.  It does, nevertheless, have the same feel, look and properties of real leather.  And, it leaves the same marks.
So when a problem comes along, you can whip it.  Before the cream sets out too long, you can whip it.  Just don't forget your red energy dome hat and the Nick Hawk Gigolo Swivel Whip.  Wh-tsh!
Yours truly,
Scarlett Stone
Follow Scarlett on Twitter!