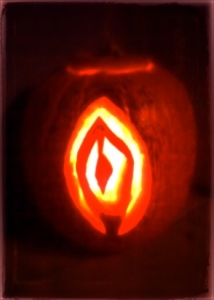 As Halloween is swiftly approaching us, I felt compelled to write an article about my absolute favorite holiday before I get completely drunk off candy and pumpkin seeds.  Naturally, I've already carved my pumpkin into the shape of a vagina.  And I'm sure it comes as no surprise that I used a sharpie to carefully draw pubic hair around its orifice.  Of course, I realized in the evening that the hair is undetectable and unseen.  Nevertheless, I am still in the Halloween spirit! And so, I am happy to share with you all some of the plans our Juliland grrls have in store for All Hallow's Eve.
Jette Violet, one of our behind the scenes babe, says that although she doesn't have plans yet, she does have a costume in the works.  "I'm a Star Trek nerd, so I'm way overdue to address that in Halloween form.  I'm going with the original Star Trek series – the short red dress, the bouffant, an old school tricorder, and a gallon of liquid eyeliner."  Jette, if you are reading this, you better send me hard pictorial evidence of your costume.
And Aiden Ashley dropped a huge bomb on us all when she told me that Halloween is the same day as her birthday.  Needless to say, I cried in the corner out of jealousy.  She then told us that while it's a double holiday for her, she doesn't have any plans set in stone yet.  "Maybe I'll go to a rave, who knows?"  Whatever she decides, I bet she'll be devilishly evol.
When I asked Bobbi Starr her plans for Halloween, I was so surprised and humbled by her response (for those of you who aren't aware of Bobbi's personality and the kind of grrl she is, I am here to tell you that she's really unlike any other porn star I have ever met).  She said, "I have no plans so far, I may have to rummage something up for a costume last minute.  But honestly, it will be the first day I've had off in months.  So, I might actually do nothing, stay home, possibly hang out with my parents
[she laughs], watch scary movies, and feed trick-or-treaters lots of candy."  I'm sure any young boy out and about on Halloween night will be pleasantly surprised when Bobbi Starr opens her door and gives them her sweets.
As for myself, I may wander to West Hollywood and check out the crazy costumes.  In my usual form, I'll most likely dress up as some sassy, iconic woman that carries a whip.  This year, I'm thinking Uma Thurman as Poison Ivy in Batman and Robin.  There's truly nothing better than a woman in charge.
Yours truly,
Scarlett Stone