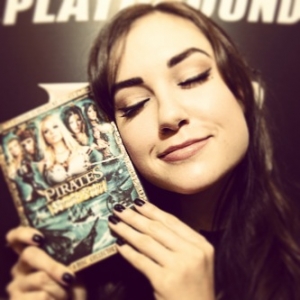 The year was 2008 on a college campus not too far from the Juliland Lair.  The only two females present (quite proudly, I might add) in Ackerman Grand Ballroom were Jane and myself.  And needless to say, we found ourselves surrounded by semen a sea full of men at the University of California Los Angeles awaiting the much anticipated screening of Pirates II: Stagnetti's Revenge.  Somehow the campus events committee had managed to bring perhaps the most successful adult content to UCLA along with two costars who for the time being, remained unnamed.  The cherry on top of the cream pie was the free admission to all UCLA students over the age of 18.  But with over 40,000 undergrad and graduate students in total, I was shocked to find I was one of the only individuals with a vagina that was not being pillaged on screen.  Had I missed something?  Was the female student body simply not interested in free adult content?  Or was I just brave enough to watch porn in public?
Then the film started rolling, and every single guy in the audience had either their legs crossed or their hands over their enlargements.  And like clockwork, one after another would file in and out of the auditorium for quick "bathroom breaks."  When they'd finally return to their seats, they had that dreamy gaze on their faces, an expression I so often saw after sex or one of my killer BJ's.  The non-bathroom-break-boys were sitting next to me in plastic chairs, anxiously holding their hands and adjusting their legs.  The post-cum-chums retained semi-boners till the presence of Jesse Jane brought them yet again over the edge.
College boys aside, the film was remarkable.  Sure, the storyline lacked and the acting was poor, but the costumes and locations were incredible!  I found myself sitting for over two hours contemplating what I wanted more: raw sex or the Victorian dresses worn by whores.  Ultimately, the dresses won.  But with an 8 million dollar budget, one could only have expected awe-inspiring bloomers, lace-up corsets, and perfectly shaved pussies.  No wonder the boys kept cuming.
The Q&A following the film's screening was kept quietly under wraps till we saw a brawny man and a slender woman walk onto the stage.  As the lights went up, so did many peckers, and with bells on was Evan Stone and Sasha Grey.  Evan yelled out, "Who here wants to be a porn star?"  I enthusiastically raised my hand, only to find that it was unrivaled and absolutely alone.  I'd like to think that it was that moment when Scarlett Stone was born, but I believe her birth probably began when she first lost her virginity in her twin bed.  But alas, that's another story.
Yours truly,
Scarlett Stone
Follow Scarlett on Twitter!