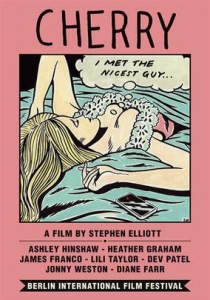 In 1997, Paul Thomas Anderson directed a film that profiled the California adult industry of the 1970's and 1980's.  Following the career of an impressionable and well-endowed Eddie Adams, Boogie Nights starts with a bulge and ends with a full-frontal prosthetic penis (worn by the one and only, Marky Mark).  Before we know it, Eddie Adams transforms into the award-winning Dirk Diggler with an ego the size of his dick.  But ultimately, it's the characters in between that makes this film orgasmic.  Julilanne Moore plays the motherly Amber Waves who famously says, "This is a giant cock."  Burt Reynolds portrays the king of porn production and direction, Jack Horner.  Heather Graham plays Brandy "Rollergirl," the porn actress who never takes off her skates even when she fucks.  We learn to never disrespect Rollergirl, despite the fact that she holds little self-respect for herself.
Almost fifteen years past and Rollergirl is still alive and well, going by the name Cherry, nonetheless.  Portrayed by Ashley Hinshaw, Cherry (Angelina) is an 18-year-old girl about to finish high school and looking to get involved in porn.  Heather Graham remains behind the camera as an adult actress turned film director, but her knowledge of Brandy "Rollergirl" in Anderson's Boogie Nights lends a hand in the IFC film, About Cherry.
About Cherry is ultimately a game of remembering names and keeping two films separate from one another.  Heather Graham may have portrayed Brandy "Rollergirl" in 1997, but in this 2012 film, she is known as Margaret.  Cherry's original name is Angelina but the actress portraying her is Ashley Hinshaw.  When all is said and done, Cherry is not Rollergirl, but merely a character inspired by the infamous blonde bombshell and her sexual exploits in the adult industry.  Other differences include the lack of roller skates and Marky Mark, two mistakes I hope won't harm box office sales.
If by chance About Cherry falls short of its 90's counterpart, I can assure you that it will provide its audience with something worthwhile.  The tale of Cherry, although dramatized, gives non-adult folk the chance to be exposed to unfamiliar territory.  And with the help of actors such as James Franco, Heather Graham, Dev Patel, Ashley Hinshaw and Lilli Taylor, former sex worker and director, Stephen Elliott, gives a real voice to pornography and the game of selling sex.  With seven books under his belt and loads of experience from the inner workings of the sex industry, Elliot was further assisted by adult actress, Lorelei Lee, and even, Kink.com.  Multiple scenes in the film were shot in the one and only San Francisco Armory, home of Kink.com.  At 250,000 square feet, the armory is the largest adult film studio in the world.  No wonder our lovely Bobbi Starr has chosen to work for Kink.com and move to San Fran as a permanent resident.  If you're familiar with her films and the surroundings that house her scenes, then you'll be sure to experience déjà vu in About Cherry.
http://www.youtube.com/watch?v=4OEZUhaofKY
About Cherry was screened at the Berlin International Film Festival in February 2012 and will be in theaters on September 21, 2012.
Yours truly,
Scarlett Stone
Follow Scarlett on Twitter!