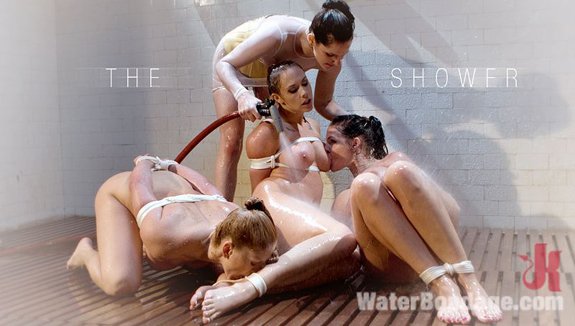 Despite the fact that our bodies are already comprised of nearly 60% water, the continuously innovative Kink.com has decided to add a little bit more H20 into the mix.  And by a "little," I'm referring to the pools, garden hoses, dunk tanks, shower heads, and buckets full of the substance we all know, love, and need: water.
The much anticipated re-release of WaterBondage.com has fans getting themselves fully wet and therefore, completely prepared for what's to cum.  As promised by Bobbi Starr, the site will feature lovely ladies such as Chanel Preston, Phoenix Marie, and Lea Lexis tied up, bound, and drenched in water through various means.  This is where the garden hoses and dunk tanks come in handy.
In the words of the Starr herself, "This three part series draws from the origins of this website when Chanta Rose reigned supreme.  So, let's get back to the source: hot, sexy femdom fantasy and lesbian BDSM action. I hope everyone enjoys this warm up back into the world of bondage, sex and of course water."
While WaterBondage.com holds promise, I personally find the form of this specific BDSM practice to be fascinating, multi-layered, and quite simply, a watery clit-tease.  On the one hand, the bottom is bound as one normally is during a fetish session.  On the other hand, the presence of water adds another element of predicament bondage where the components of breath control and submissive immersion come into play.  In this sense, there are multiple layers of control and trust between the domme and sub.  And of course, this relationship is only heightened when you see just how beautiful the female form looks in a body of water.  So drive on down to Target, pick yourself up some goggles, floaties, and a couple towels.  You're going to need them.  It's time to get wet!
Yours truly,
Scarlett Stone
Follow Scarlett on Twitter!